Making a lasting connection
Identifying installation issues with pipework at the commissioning stage is vital to prevent time–consuming remedial work after the fit out is complete. Scott James of Viega UK looks at what to consider when specifying pipework and how modern installation methods can help save time and money during and after the project.
Installing, commissioning and testing pipework is a complex process — especially on larger developments where several subcontractors will be operating across the site. The components selected, including the method used to connect the pipe can have a significant impact on both the time on site and the cost of completing the work. In addition, it is vital that when the install is completed the testing process is sufficiently reliable to highlight any issues, such as joints that are not fully sealed. If these are not identified quickly, the cost of correcting it can be considerable — especially if fit-out work is already underway or even completed.
While soldering has traditionally been the preferred method of connecting pipe runs for domestic hot- and cold-water systems, modern press-connection systems can provide advantages in terms of speed of install, safety, hygiene and reliability.
The process of press connecting pipe is straightforward and requires minimal preparation, allowing the install to be completed up to 50% quicker compared with soldering.
Contractors simply need to cut the pipe to the required length, deburr the cut surface, slide the press fitting into place and press the connection. Also, in contrast to soldering, the surface of the pipe does not need to cool or be cleaned to remove excess solder once the joint has been made. Furthermore, as a cold-applied product, there is no fire risk with press connections — helping to create a safer working environment.
For applications where the durability of thick-walled steel pipe is preferred, such as public sector, healthcare and educational facilities, modern press connections allow the same materials to be used while saving time on-site compared to threading. By removing the need to create a thread on the pipe, considerable time is saved in terms of preparation and finishing work.
When specifying pipework it is important to ensure robust and reliable joints. The simplicity of press fitting means that a uniform seal can be made on each connection throughout the project. This is particularly important on large-scale developments where thousands of joints will have to be created across the site.
In addition, a testing procedure should be established that will not only reliably identify issues but also allow the installation process to evolve. For example, testing the system in zones, such as one floor or section at a time will help to identify ways the install can be improved as the project progresses — preventing the same problems reoccurring.
Furthermore, selecting a system that is specifically designed to reveal unpressed connections is vital. Without such a feature, fittings that have been missed during installation may not leak at testing pressures but will fail when the system is in use. For example, Viega's SC-Contur technology includes a flowpath channel, which is proven to deliver a 100% positive leak during testing if the fitting is left unpressed.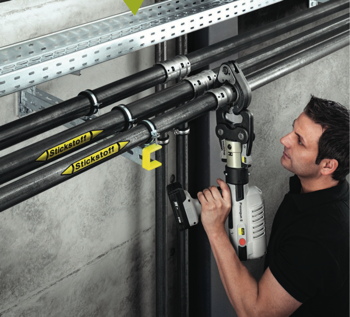 The concept ensures that water will visibly escape from unpressed connections at pressures between 1 and 6.5 bar. For dry testing with inert gas a measurable drop in pressure will occur between 22 mbar and 3 bar. Additionally, providing the fittings are installed throughout the system, SC-Contur also allows leakage testing to be carried out centrally using a manometer. Where a missed joint is detected, press connections make it simple to correct. There is no need to dry or prepare the joint, and it can be pressed immediately.
Finally, an important consideration frequently overlooked is the need to protect the pipe system from corrosion both during and after installation.
Once the system is filled for the first time it is recommended that it is not drained. As soon as oxygen comes into contact with water on the surface of the metal, corrosion will begin to occur. If left untreated, this can compromise the integrity of the pipe.
Following completion of the building it is vital that a maintenance regime is established to ensure the longevity of the system. The pipework should be inspected every 12 months to identify any problems and ensure that inhibitor levels are correct.
To prevent issues arising after a project is complete and when remedial work would be costly and time-consuming, it absolutely vital to select a high-quality press-connection solution. This will provide a quicker, cleaner, safer and easier installation method while facilitating more consistent and reliable testing procedures.
Scott James is a director at Viega UK.
Related links:
Related articles: