Reducing the payback period for lighting control

Not only can modern approaches to lighting control in commercial buildings save energy, but they can significantly reduce the payback period — as Bastiaan de Groot of Feilo Sylvania explains.
LED technology has revolutionised the lighting, industry mainly due to its ability to cut energy costs and provide savings of around 60% compared to conventional lighting technologies. With lighting accounting for at least a third of a commercial building's energy consumption, this was great news for building owners, energy managers and specifiers.
Now, technology is moving on again, and the way we control a lighting scheme can help us reap yet more savings. The installation of a lighting-control system will achieve savings of up to 80% when compared to having no control system in place, a significant amount.
There is a vast array of options available for lighting control. The choice system integrators typically face is between established industrial systems like DALI and KNX and next-generation solutions that are being developed and launched on the market.
These state-of-the-art solutions are far more intelligent and easy to use, taking inspiration from the consumer electronics and digital industries with easy-to-use interfaces and minimum configuration. Legacy lighting controls are reminiscent of the early days of the computer industry — expensive, hard to use and aimed at trained professionals. In contrast, today's latest plug-and-play innovations in lighting control provide the commercial environment with sophisticated, yet simple-to-operate, solutions that deliver very real benefits to clients.
However, installing a lighting-control system in a commercial building is a significant investment. Indeed for some organisations taking a conventional approach to installing lighting control would be looking at a payback period of more than five years — which, simply put, is a lengthy period that does not justify the initial capital investment.
This is changing though. With the latest generation of control systems, the need for wiring and commissioning is removed, reducing the capital investment by up to 30%. Furthermore, the intuitive nature of new control systems enables them to use more advanced strategies, delivering an additional saving of 30%. This brings the payback below the 5-year mark, and well-designed systems can achieve a payback within three years.
Implementing a new lighting-control system can be a real headache. The downtime can cause major disruption in large commercial offices, education or healthcare applications — many of which could be in use 24 hours a day, seven days a week.
For maximum benefit, consider having luminaires installed that are fitted with integrated lighting control. Having the controls system integrated into the fixture at the point of manufacture represents significant on-site savings, as well as a much smoother specification, design, installation and commissioning process. Such systems also have the capability to adjust to changing surroundings (such as reconfiguring an office space with new partitioning) without any further programming.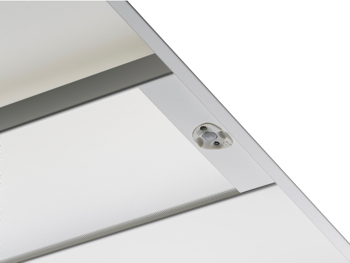 For example, Feilo Sylvania has integrated Organic Response technology within its suitable architectural luminaires. Each luminaire has a sensor node installed during manufacture. Each node contains a motion sensor, infrared transmitter, infrared receiver, ambient-light sensor and an intelligent microprocessor. The sensors allow the luminaire to be fully aware of its surroundings and nearby occupants, with the luminaire also able to broadcast information to nearby luminaires to create a harmonious lighting system. The system is self-configuring, requires no additional cables and offers higher energy savings and quicker payback periods than conventional solutions.
To achieve maximum functionality, buildings and systems need to work in sync with one another. Part of this is the understanding of the occupants within the building — their presence, movement patterns and typical behaviour. This can only be achieved through data collected via sensors, which is analysed and acted upon. The latest generation of control systems can link their data to cloud services and a BMS, increasing the potential savings that are available.
Hot desking, where employees do not have assigned desks, is increasingly popular in many office environments. With access to real-time data on the occupancy of the office gathered by a network of smart sensors embedded in luminaires, building managers could start the day with just the first floor open and, as it fills up with staff, open additional floors if necessary. On the closed floors, building services such as heating and air conditioning could be completely turned off, generating significant energy savings. This strategy ensures that energy is only being used where it is needed, and not wasted heating or lighting half-empty office space.
Smart lighting systems can also help reduce building operating costs. With property prices so high it is essential that building owners utilise every square metre of space as efficiently as possible, reducing their costs at the same time. If the smart sensor integrated within a luminaire in a meeting room detects very little usage of that room, then it could be converted to other uses — perhaps to provide more desk space and enable more employees per square metre.
A network of smart sensors can also help building owners co-ordinate cleaning more effectively. Analysing the heat map generated by these sensors they can help identify areas of the building that have not been used, so cleaners can be instructed to avoid those areas, significantly lowering cleaning costs.
Utilising a lighting control system presents itself as one of the most accessible methods in reducing energy consumption within a modern commercial building.
Bastiaan de Groot is global director for strategy and new business development at Feilo Sylvania.
Related links:
Related articles: