Planning for successful commissioning

The key to the successful commissioning of a project is a commissioning plan. Tony Anderson, a member of the Commissioning Specialists' Association's training committee and assessment panel shares his experience of how this simple tool provides clarity to commissioning projects.
Those who have never used a commissioning plan (shame on you!) and those that are unfamiliar with a project-specific commissioning plan can initially find it difficult to gauge how beneficial having a commissioning plan in place would be to the testing and commissioning of any project.
On the other hand, if you have had experience working on projects with a detailed commissioning plan in place you will undoubtedly know and understand the importance of having one.
So what is a commissioning plan?
According to BSRIA's BG8/2009 'Model commissioning plan' in its simplest form a commissioning plan should address the following points.
• Provide general information about the project.
• Identify the commissioning team members during each stage of the commissioning process.
• Define the roles and responsibilities for each member of the commissioning team.
• Create a schedule of commissioning activities for each stage of the commissioning process.
• Establish documentation requirements associated with the commissioning process.
• Establish communication and reporting procedures for the commissioning process.
Reflecting on projects I have worked on across the UK and overseas, the most successful have benefited from having an accurate and updated commissioning plan.
The commissioning phase of any project is normally the most difficult by its very nature. Systems only near completion towards the end of construction phase, and the commissioning phase of a project is generally shoe-horned into a few weeks/months preceding project practical completion or handover.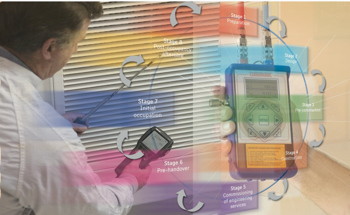 Testing and commissioning at the latter part of a project is a necessity to allow systems to be tested with advanced/final building envelope completed. This is also when construction teams are eager to get everyone out of zones/floors to close out areas and zones, and this is when I have found that the commissioning plan can make a massive difference. The installation-team managers at this stage know what the main systems are (as opposed to floor area only) and what is required from them to allow completion of each building service.
Construction teams will know what commissioning activities are taking place. A small example is they understand why 'commissioning tiles' are not installed for duration of commissioning. A reminder of the cost of replacing ceiling tiles or downtime of removing commissioning access tiles usually helps.
The commissioning teams know what systems are to be commissioned, method statements are approved, they know who to report progress to and how to finalise system paperwork to allow systems to be fully witnessed.
Managers are aware of the process of what systems are being commissioned, where commissioning documentation is being kept and when systems will be available for witnessing.
In my experience, the common thread on projects that didn't have a plan in place was that minor building-completion issues lead quickly into major delays to completing the commissioning process. How much of this was down to not having a commissioning plan in place is difficult to assess. However, the outcome was the same on each project that did not have one.
Time and time again commissioning activities were overlooked. A common issue which on the face of it appear could appear trivial — the fitting out entire floors of floor tiles and false ceilings to give the area 'the finished look'. Fitting the tiles out will help make the area 'look' finished, but without commissioned MEP services the area in truth is far from complete. On large-scale complex systems, commissioning teams having to re-access hundreds of tiles, sometimes two or three times, caused major disruption to the commissioning and witnessing of systems.
Construction team members didn't realise what was expected from them at each stage of the project. The common issue was they had little or no understanding of what a commissioning activity involved — both from a system boundary and duration point of view.
Issues also came from the specialist commissioning teams that were not fully aware of the entire reporting process when completing a system. An example is a dry-riser witness test not being scheduled or not all witnessing parties invited — leading to the entire system having to be retested in front of the full client witnessing team, including the Building Control Officer.
However, creating a commissioning plan will not ensure that the testing and commissioning will run hassle free — and such a belief is a popular misconception. The document itself isn't a one-stop shop that lists every possible outcome or prevents any issues arising during the testing and commissioning of projects. However, it is a platform that allows discussions to be performed at a very early stage and brings together the entire site team from construction to commissioning, through to integrated systems testing. Each person is aware and has a reference point to responsibilities that are clearly set out for construction and commissioning team members at each stage of a project.
Almost all of the major obstacles I have faced from all sides of the fence with regards to commissioning MEP services in any building relate back to not having clear, concise communication between all parties on site.
It sounds simple, and it is. Gathering everyone involved in the commissioning process and continually discussing the process, requirements and responsibilities adds clarity at the commissioning stage of the project.
Related links:
Related articles: