Zoning in on the detail promotes smart and thrifty buildings

The detail is all-important when it comes to developing high-performance, smart building systems — finely tuned for the purpose for which they were designed. Paul Wightman of Albion Valves shares his ideas.
Non-domestic buildings in the UK accounts for 18% of greenhouse-gas emissions. For a multitude of reasons such as environmental, legislative, financial and overall efficiency, this figure needs to be reduced.
When we consider the sheer scale of our public buildings and the footprint they occupy in the built environment it is priority area of focus. Because of the size of such buildings, efficiency measures can be very effective, significantly cutting carbon footprint and energy bills. However, it is often the small details that are overlooked, which, when addressed, can ultimately make a significant improvement to the overall building's performance.
We know there are potential savings from heating, cooling and energy efficiency within the commercial and public sectors. However, when we say energy efficient, we often think of using less electricity, less gas or less fuel to heat or cool our buildings.
It is not always about using less, which simply means reducing the output or turning off areas. This alone can help if there is excess but invariably it will result in insufficient energy delivery and occupancy comfort being compromised.
'Off' is always the cheapest, but the UK climate dictates that despite global warming, heating is a necessity in the UK. Paradoxically, the requirement for cooling is also on the rise due to a higher-density of urban building, which places greater energy demands on our scarce resources
In our building systems, accuracy of control is the key to delivering what we need, where we need it and at the right levels; this is down to the detail in design.
Over delivery wastes energy, creating an uncomfortable environment that can reduce the output of a workforce. Under performance increases the frequency of maintenance intervention and increases service costs.
Tighter control in heating and cooling systems using pressure independent control valves (PICVs) that react to changes in differential pressure so that the flow remains constant regardless of fluctuations is a crucial detail not to be overlooked.
PICVs help create a much narrower thermostatic range in heating systems, which effectively stabilises the temperature and reduces the likelihood of surges outside the comfort zone. This means that the system does not work earlier than needed to deliver and can also reduce output sooner, rather than overshoot the desired set-point temperature.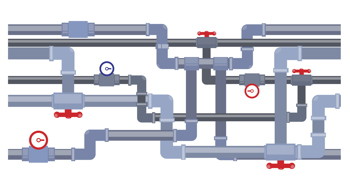 Additionally, using low-grade heat sources in better-insulated buildings for base-level requirements is also a good solution. For example, ground- or air-source heat pumps with a wide ∆T can have significantly lower flow rates, particularly in variable-volume LTHW systems. Accuracy of control is important to maintain performance and achieve output, so PICVs are essential in this type of application. PICVs have the range ability that is required, along with the authority of control right where it is needed at the delivery interface — e.g. for fan-coil units and heat emitters in LTHW and chilled-water systems.
Water is another resource that has a financial cost on a building, so using solenoid valves to limit delivery to prevent wastage is another detail worth consideration to ultimately impact on a larger scale.
Consider how many commercial buildings have leaking taps or flushing cisterns continually in operation. The use of passive infrared sensors on taps and solenoids can mean water can only flow when demand occurs.
Zone control valves can be linked in a similar manner to shut down or reduce the operation of LTHW or chilled-water systems for periods of non-occupancy or inactivity. This same logic can turn off the lights and other devices, so saving energy in the same manner.
Another simple example where zone control valves are effective is in schools that host ex-curricular evening classes. Heating is often provided in the winter, but many schools have poor zoning, so the whole school is heated instead of just one classroom or hall.
For HVAC engineers working in office environments and other public buildings, striking the right balance in the heating or cooling system is fundamental. The correct design and accurate implementation will provide the right balance, greater efficiency and savings all round.
Paul Wightman is technical specifications manager with Albion Valves.
Related links:
Related articles: