Delivering heat efficiently
Fan convectors have a number of features that combine to deliver energy-efficient heating systems. Simon Butcher of Smith's Environmental Products takes up the story.
Fan convectors are incredibly versatile in most commercial applications. When we talk about them being energy efficient, they are best described as enablers. In and of themselves, they're not the actual answer to all energy-efficiency requirements, but they enable other components within the heating or cooling system to operate at their optimum efficiency, whether a commercial boiler-fed central heating system, a heat pump or bio mass boiler.
The contribution that fan convectors have to make arises out of two different and interesting elements. Firstly, they contain much less water than a traditional radiator, only 5%. This low water content reduces the volume of water that needs to be heated or cooled, which provides an energy saving in its own right.
As a recap, fan convectors operate via a heat exchanger and a small electric fan. The heat exchanger connects to a standard two-pipe central-heating system which passes hot water through it, transferring its heat to aluminium fins. The fan draws in cooler air, which heats up as it moves over the heat exchanger before being expelled gently back into the room by the same fan.
Fan convectors provide a more even temperature spread and much faster warmth than other heat emitters, and the small fan distributes heat by using forced, rather than natural, convection. As a result, they are far more responsive to thermostatic controls and lend themselves to a significant number of different commercial applications.
Secondly, EC motors are becoming the de facto, standard motor in fan convectors; we always offer EC motor products across the board and we would only provide convectors with AC motors where the client was seeking to significantly reduce initial capital costs.
Fan convectors with EC motors are highly desirable because they lend themselves to more intelligent controls, such as internal proportional heat output controls (PHOCs). Using a control system effectively will bring about energy efficiencies for the whole building.
For example, a recent project at a Stamford school saw every single fan convector unit we've supplied (20 at the last count) having an integral PHOC. This modulates the fan speed, depending on the room temperature, allowing users to maximise the heater output at prime times, before staff and children arrive. The modulation is so gentle and sophisticated that it's barely noticeable and allows access to the full range of the fan convector's output.
Another benefit of fan convectors is that they can be organised in a master and slave schematic.
A project in central London is using this as a critical component in the heating solution. Again, the PHOC controls will be prewired as an integral part of the units. The first phase uses our concealed fan convector, the Caspian UVC as well as our mainstream UV, because the need to conceal the units has arisen in large part as this is a replacement project. The PHOCs will be managed by radio-frequency wireless room thermostats.
The ability to use a 0 to10 V signal to manage the speed of EC motors in a single fan convector or a series means fan convectors can be properly integrated with all manner of controls or thermostats — in anything from a simple household control to a highly sophisticated commercial BMS system.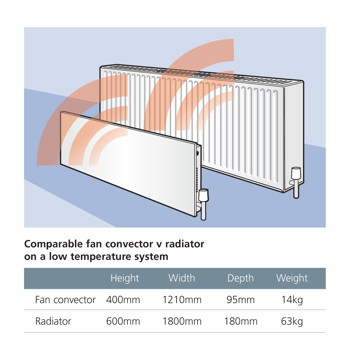 An EC motor is 30 to 50% more efficient than an AC motor, which will also reduce the overall energy consumption around the building. Its ability to successfully integrate to a controls package is the key element to understanding why fan convectors should be factored in as part any commercial heating solution. For example if a heat pump is specified for its energy-efficient properties, it follows that the selected heaters should be equally efficient.
The third important element is ensuring that the controls part of the solution needs to be straightforward to understand and apply. If the controls selected are over-complicated, difficult to understand or inaccurate, then what's the point? The human element also makes a massive difference to how energy efficient a heating solution ends up being. While employees might prefer an on/off switch for simplicity, a tailored control system for each room or zone and for the overall building will deliver much higher efficiency savings.
Fan convectors as part of a heating solution bring with them the energy-efficient facilitator credentials specifiers are insisting on. The reaction time is pretty instant, and they provide heat faster than any other heat emitter.
They're also incredibly versatile, and this single technology is available in so many different guises that integrating fan convectors throughout a building is much more feasible than any other heating technology. The many formats of fan convectors (air curtains, traditional fan convectors and trench heating), combined with the controls strategies that can be employed, means the total heating solution will be simpler and possess the scope to cope with numerous situations.
Whether it's LST (low surface temperature) or the need to be fitted in a ceiling tile, wall-mounted high or low level or even ducted so it's out of sight, fan convector technology, chameleon-like, suits most applications.
For an energy-efficient building system to be effective, each of its components needs to hold its own and work in combination with the other components to deliver an optimum solution.
When fan convectors form part of this equation, the heating solution will make a considerable contribution to the overall energy-efficiency of the project and the building itself. It is plain to see that this message is starting to penetrate the thinking of all those involved in project specification and that the humble fan convector is making inroads in commercial heating projects today and taking its rightful place as a key component in the specification market.
Simon Butcher, Technical Services Manager, Smith's Environmental Products.
Related links:
Related articles: