Size up your options
Correct sizing is a fundamental requirement for energy efficient systems. But with an array of products on the market, selecting the correct one is a challenge. Dan Martindale offers advice on finding and sizing the right water heater for your project.
Industry veterans will remember the days when there were just a handful of water heaters on the market, and when new equipment had to be sized using lengthy manual calculations. Digital tools are now available to help the specifier reduce the time required, but this is offset by the large range of products available.
Where to start is often the time-consuming question that needs answering. What's more, products will only work at maximum efficiency if the overall system is sized and integrated correctly, so it's crucial to get this right.
Larger plants have a greater capital outlay and are trickier to install, so avoiding oversizing will save customers time and money upfront. They also use more energy, even if the demand for hot water is not there, landing the end user with more expensive bills.
However, just by following a few simple steps, it's easy to strike the balance between output and efficiency, resulting in a happier customer.
1. Scope out the premises
A recommended starting point is to consider the type of building and its usage, as this will impact the demand. For example, the peak periods in a hotel may be considerably different to a nursing home and, as such, require a different approach. Most hotels experience an uptake in water consumption between 7-10AM and 4-7PM when guests are getting up or preparing for their evening out. Conversely, residents in a nursing home are more likely to use washing facilities throughout the day, depending on when care staff are on shift.
On a retrofit job, where the water heater will fit into the existing heating system is an important factor. Will it be the primary heating product, or will it supplement other technology such as combined heat and power (CHP)?
Some models, such as COMBIflo even have space heating capabilities, so it makes sense to factor this into product selection.
2. Assess demand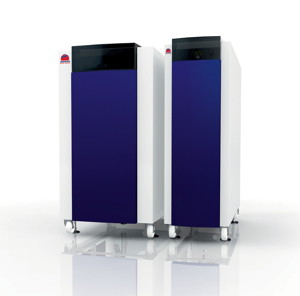 The next step is to establish the details, such as number of demand points, outlet temperature, required flow rates, basin capacity, length of the peak period and number of fills during this time. These factors dictate the size and type of water heater best suited to job. For customer satisfaction, it is imperative that the products installed are powerful enough to achieve the desired flow rate and temperature – otherwise the customer will complain that their new equipment 'doesn't work'.
3. Select the product
After this, specifiers should consider how many units the customer wishes to have. In commercial applications where hot water supply is business-critical (such as a hotel) we would recommend installing more than one water heater. Compared with one piece of equipment with a higher output, multiple units ensure a level of continuity of supply. Of course, the amount of plant space available would also dictate the quantity of units a building can accommodate.
The type of water heater is also a consideration here: is the building supplied by natural gas or does it use LPG? Does the customer want a condensing or non-condensing model? The answer to the latter question is usually a no-brainer, as condensing water heaters offer better energy performance, providing the customer with more manageable running costs.
4. Consider storage and recovery
Finally, we come to recovery rates and built-in storage. When only a small amount of hot water is needed each time, in-built storage in a direct-fired gas water heater can supply this without firing up the water heater. Stored water also provides the initial supply of hot water when demand is high. However, if peak periods are close together, we would, depending on the time between them, recommend sizing is for a water heater with recovery in mind only.
Sizing has come a long way since the days of manual calculations. Incorrectly specified equipment can hinder the efficiency and reliability of the overall system, so it is in manufacturers' interests to provide as much guidance as possible. After all, sizing equipment right will get a project off to a good start to benefit both consultants and customers.
Dan Martindale, is sales director at Andrews Water Heaters.
Related links:
Related articles: