Find the right fit
John Forster, product manager at Heatrae Sadia, explains why, with so many water heating solutions out there, it's important that businesses find the right fit for their needs.
Businesses in the market for a new or replacement water heater for their offices or factory can often be overwhelmed by the sheer amount of choice. Many are unsure exactly how much hot water they need to run their business, and need advice on the type and size of water heater to choose.
The size of the sector means that installers are presented with many opportunities to boost their business. As the backbone of the economy, small and medium sized enterprises (SMEs) employ 15.7 million people and 60 per cent of all private sector employment in the UK. These companies depend on the expertise that installers provide in ensuring water heating systems are fit for purpose.
Navigate the options
So what do small businesses really need? First and foremost, they require a system that provides a steady supply of hot water to keep their business running smoothly. However, opt for a water heater that's too small and they won't have enough for the company to operate effectively. Go too large and they will end up spending excess money in both upfront capital and long-term operating costs.
The good news is that there is a middle ground that's proving a perfect solution for companies in this sector. Unvented systems are quickly becoming an essential choice for small businesses whose requirements are more than that of residential properties but not as much as large commercial enterprises.
Unvented hot water cylinders feed directly from the cold mains water and therefore deliver hot water at mains pressure. Differing from a traditional vented cylinder, which uses a cold water storage tank, unvented systems provide powerful hot water without a loss of performance if several taps are turned on simultaneously.
Furthermore, since these systems don't rely on gravity to move hot water around the property, the unvented cylinder can be located pretty much anywhere. The solution is also often more cost-effective to install than single sink open outlet water heaters, and has the benefit of utilising thermostatic mixing values (TMVs) to reduce the risk of scalding.
Distinguish quality
Every installer has their preferred products, and when short on time it can be tempting to fall back on the most convenient solution. However, it's important to note that not all unvented cylinder systems are the same and that some products differ in terms of quality.
There are certain qualities that you should definitely bear in mind when specifying a water cylinder, to ensure that it is capable of meeting the demands of the building in the long term.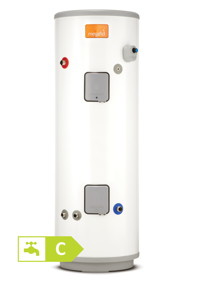 Given that the cylinders are storing water under high pressure, it is essential that they are strong, durable and corrosion resistant. In the UK, they are generally made from stainless steel, copper or glass lined mild steel, but Duplex stainless steel is the preferred material, as it has outstanding and unique corrosion resistant properties.
Customers expect their new hot water cylinder to have a long and reliable life, so quality materials matter, as do comprehensive warranties. Installers should check the terms of any guarantee offered, and make small business owners aware of any limitations hidden in the terms and conditions. They should also consider whether on-site parts and labour costs are included, whether the guarantee is transferrable to new owners if the property is sold, and what level of after-sales support is offered.
When making recommendations, it is also important to keep in mind that to ensure safety and to comply with building regulations, unvented hot water cylinders should be installed by a G3 qualified installer and serviced annually.
Deliver for the customer
Critical building services such as power and water are often towards the bottom of the list of priorities for small business owners that have to contend with a plethora of other considerations that go with running a company. They just want a solution that works – effectively and efficiently.
The Megaflo Eco range from Heatrae Sadia, for example, offers commercial performance from a smaller sized cylinder. The 250 and 300 litre units also offer twice the flow rate of a standard domestic unit, making them perfect for applications such as catering.
We're seeing more and more small businesses turning to unvented water cylinders as their solution of choice for hot water heating, thanks to the expertise and advice of their installers. The system ensures that fast-flowing, reliable hot water is always on tap, providing peace of mind to busy owners who are free to focus on making their business a success.
John Forster is product manager at Heatrae Sadia
Related links:
Related articles: