Treat systems during shutdowns, not breakdowns for better results
Planned shutdowns represent the ideal opportunity to protect commercial heating systems from the otherwise inevitable and highly damaging effects of corrosion and limescale. Chris Shelton explains how to deliver this potentially boiler-saving approach.
It is a little stated fact that most commercial heating sys- tems experience significant problems during their often too-short lifetimes; excessive energy consumption, poor heat transfer, premature repairs and parts replacements, breakdowns, and even complete boiler failure, to name but a few. Such issues can waste tens or even hundreds of thousands of pounds, consume substantial amounts of time, and adversely affect business operations. And no one is spared; installers, contractors, facilities management providers and the client, of course, all pay a price when heating systems fail to operate as they should. But all of these problems are avoidable with the right planning and tools.
Most issues experienced by commercial heating systems are the result of poor water treatment. Best practice water treatment, on the other hand, keeps heating systems free of corrosion and limescale (in hard water areas). Additional issues can include: pin-hole corrosion in heat exchangers and radiators; blocked valves, pipes and pumps; radiator cold spots; increased wear and tear on components; and congested heat exchanger voids.
Best practice water treatment provides boilers and heating system components with lifetime protection from corrosion- and limescale-related problems, and it comprises just three steps; clean, protect and maintain.
Cleaning first involves the testing of circulating water with a system check kit (a sample of system water is sent off for in-depth independent laboratory analyses) to ascertain the type/s of contamination present. There are a number of options for the cleaning process and one of these is chemical cleaning. This means use of a suitable cleaning agent, and mains water flushing to remove all foulants in the system's circulating water. These can include installation debris and contaminants in new heating systems and corrosion and limescale in older heating systems.
Protection involves dosing a clean system with a sufficient level of high quality, boiler manufacturer-endorsed inhibitor, a chemical that is designed to prevent corrosion, limescale and biofouling. Filters can also be installed on a system to protect components from residual debris in the circulating water.
The final step, maintenance, includes the periodic assessment of system water quality using a system check kit to ensure adequate inhibitor concentration and cleanliness of system water. This is important as corrosion can occur for many reasons, such as poor system design; inadequate system pressure; oxygen ingress; or leaks resulting in excessive make-up water. It can also be caused by loss of inhibitor due to partial draining of a system followed by refilling with raw mains water. System checks not only evaluate the health and ongoing protection of a heating system but also help to identify any necessary maintenance and allow it to be undertaken in a convenient, controlled manner.
The benefits of best practice water treatment include optimal energy performance; maximum heat transfer; extended system longevity; and reliable performance. It also helps to meet boiler warranty terms and conditions, and even to secure extended manufacturer warranties. The approach costs relatively very little; the investment for enough high quality, boiler manufacturer- endorsed chemicals to clean and protect a mid-sized commercial heating systems is just a few hundred pounds, and the cost of an annual system check, required to maintain the water treatment, is low.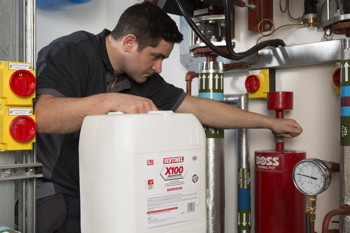 Reviewing water quality in boiler plants and implementing the necessary chemical treatments does, however, take time – from several days to several weeks or more, depending on the size and complexity of a system. Often, insufficient time is allocated for proper water treatment. For example, systems that are not cleaned thoroughly will continue to contain harmful contaminants (in addition, if the system had cold spots, blockages, etc., these may not have been removed) and corrosion cells will ensue. What's more, any subsequently dosed inhibitor will be prevented from working effectively, ultimately leaving the system vulnerable to corrosion and limescale build-up.
Planned shutdowns, such as during school summer holidays or for general refurbishments, are an opportunity for engineers to undertake water treatment with minimal disruption.
Water treatment is essential for both new and existing heating systems, but allocating adequate time for best practice is especially important with boiler replacements as the cleaning process to remove corrosion sludge, debris and other harmful foulants from older commercial heating systems always takes longer – potentially several weeks. The early application of a slower acting cleaner will facilitate a faster boiler replacement programme, ensuring that the existing system is cleaner and thus easier to work with.
Planned preventative maintenance is extremely important in the commercial sector, helping to limit downtime and maintain business continuity. By implementing best practice cleaning and protection, and then following up with regular checks of system water, engineers can catch potential problems early and take the time to consult water treatment specialists on the best courses of action – which could be carried out during planned shutdowns. Ultimately, this approach helps to achieve lifetime system protection and optimal energy savings.
Chris Shelton is sales director at Sentinel Commercial
Related links:
Related articles: