Pumping up energy ratings
MEES will put building services in focus as owners look for energy savings. Glynn Williams explains why pumps could be a good place to start when looking for better performance.
The MEES (Minimum Energy Efficiency Stand- ards) mean that from April 2018 non-domestic landlords, including public-sec- tor landlords, will not be able to let any property that has an EPC (Energy Performance Certificate) rating of F or G.
With the focus on energy efficiency, combined with the fact that EPC certificates were introduced in England and Wales in 2007, you might be forgiven for thinking that this will not impact on many properties. Sadly, the truth is that there are still currently 118,151 (17%) and 34,625 (16%) applicable buildings in England and Wales respectively that do not meet the minimum energy performance demands. Improving them, besides saving energy and carbon, would also contribute to decreasing seasonal demands that could, for example, help to improve our energy security as well as supporting newer, more energy efficient solutions.
Fixed services in focus
This puts building services, including products such as pumps, very much in the spotlight in terms of their contribution to the overall energy efficiency of a building.
Pumps can be significant energy users in a building, so optimising their performance can make a significant impact on energy use. Grundfos has a range of tools including an Energy Check that allows us to look at any property and to produce a report that will advise on the efficiency of their current installed pumps. The resulting report lists the surveyed pump assets and details each pump, showing individual kWh/yr saving that could be achieved by selecting a more efficient option. The ROI on this sort of replacement strategy can be as short as two years in some buildings.
Case stories
Grundfos approached a facilities management company suggesting that they could benefit from undertaking energy checks on the pumps at the various buildings they maintain.
The company had recently been tasked with finding additional savings beyond those that had already been achieved on lighting and water usage for a larger sized office block. The decision was taken to undertake an Energy Check on the pump system.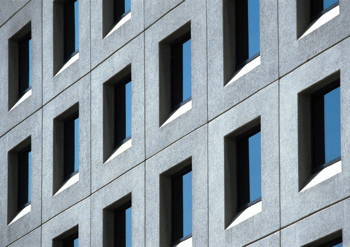 In this instance, the report showed that the pumps supporting the heating and cooling systems offered excellent savings opportunities. These pumps had been in place for many years and thit was clear that converting the existing fixed speed pumps to variable speed replacements, would deliver energy savings of 774,823kw pa. This is equal to a whopping 45% energy saving and offered a return on investment of just 1.7 years.
The indicated pumps were replaced and the facilities management company is so impressed with their results that they requested more energy checks be undertaken on other premises in their portfolio.
In another example, a large office building in central London replaced obsolete pumps with new, energy-efficient models following a Grundfos Energy Check. The pumps now operate to meet the actual demand, and the new pumps are delivering a saving 318,000 kWh per year. This amounts to a massive saving of £30k p.a., a large reduction in CO2 emissions and a payback of just 2.8 years.
Summary
Updating pumps is a simple step that offers significan impacts for building owners. Typical savings are 30-50% of energy with newer model pumps. In addition, pump upgrades result in more reliable operation, reduced downtime and lower repair costs - as well as being a major contributor to improving a buildings EPC rating.
The changes to MEES will put existing non-domestic buildings back onto the energy agenda, but with the savings that can be achieved through upgrading their pump portfolio, there are excellent reasons for any building that is more than five years old to review their pump performance as the resultant savings can be significant and replacement highly cost-effective.
Glynn Williams, is director of sales, Grundfos Commercial Building Services
Related links:
Related articles: