Building blocks

Modular construction has gained considerable momentum over the past five years in the UK due to its positive impact on cost, programme, quality and safety. Offsite construction consultant Darren Richards discusses the latest developments.
The UK has seen a revolution in the focus on offsite technology to address build cost inflation, traditional skills decline and achieving predictability of the delivery programme. The new Industrial Strategy mandating the use of offsite technology on a range of publicly-financed construction initiatives across the housing, education, healthcare and infrastructure sectors is just one the driving forces behind innovations in this rapidly developing sector.
The particular success and appeal of module manufacture rests in the repeatability of units. Load-bearing modules can be steel or timber-based and are pre-fitted with electrics, plumbing, heating, doors and windows, together with internal finishes. The modules are commissioned prior to leaving the factory, ensuring that defects are minimised, and quality control is very high – they are then transported to site and carefully craned into position on prepared foundations.
By assembling modules in a precision-controlled factory environment, the production line techniques that drive module assembly bring speed of delivery, enhance the quality of the end product and dramatically improve productivity. Although module selection can be significantly influenced by transportation dimensions, they are suitable for any building sector but are very popular in the education, healthcare and student accommodation sectors. Applications also include commercial offices and hotels.
Mechanical, electrical and plumbing (MEP) services include a number of 'plug and play' technologies pre-installed at the factory for plant-rooms - with pipework, cable management and ductwork for building services in-situ. These are integrated in a multi-services module mounted in the ceiling, under the floor or in-service risers. Mechanical ducting or pipework systems/ modules are often combined with electrical service distribution. These units are packaged or skidmounted as pre-assembled units, pre-finished in the factory for straightforward mains connection once they arrive on site.
MEP modules (also known as packaged plant rooms) and riser modules, are created from high quality materials and can accommodate a range of building services in one simple unit.
Simpler and safer
MEP modules simplify a complex installation of service units, minimise labour onsite and provide far greater quality control.
Moving this kind of work offsite means potentially dangerous practices such as working at height, hot works in restricted spaces are vastly reduced. As with all offsite manufacture this creates less waste, less noise and efficient material delivery to site, thereby reducing programme times. Taking MEP services offsite also means early testing, commissioning and programme assurances can be secured.
The productivity issues in the construction industry are responsible for the emergence of new providers bringing new, advanced products to market and the impetus for offsite construction. Products are emerging that are targeting more of a 'tool kit' approach to the adoption of assembly - such as prefabricated utility cupboards (PUC). These provide a central interface for mechanical, heating and ventilation configurations.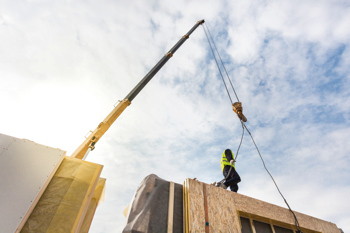 Packaging up high levels of labour both in terms of skills and hours into a concentrated offsite delivered solution – the rise in the specification of PUCs is driven by the UK volume house-builders. This innovation has required a change in the approach to procurement and a re-profiling and re-sequencing of traditional skilled trades on site, but many are now seeing the benefits in terms of programme certainty and a reduction in 'snagging' activity associated with the mechanical, electrical and plumbing services activity. Capable of integrating any project arrangements, PUCs are constructed to accommodate hoisting requirements and can be installed without the need for bespoke plant.
Bathroom pods provide a quality, factory controlled modular construction solution that is manufactured to a high degree of standardisation – making them ideal for largescale building projects such as student accommodation, private rental and hotel schemes. Such developments can be made significantly more efficient and profitable through the use of these modular bathroom units.
Offsite pod solutions negate the need for snagging – reducing the time and cost associated with what is widely known to be one of the most difficult components of a building to deliver. The lightweight structure of these complete bathroom pods minimises manufacturing time and simplifies assembly – making for an outcome that is more efficient all-round. One of the greatest benefits that comes with this flexible building systems, is their range of customisation options - making bathroom pods suitable for anything from a fivestar hotel development to student accommodation.
Commercial viability
It is clear that economies of scale are being realised and modular construction is becoming a truly viable alternative to traditional construction techniques. There can be no doubt that there is a groundswell of activity in respect of offsite construction and there is a growing sense that the time is now right to embrace the latest technology on offer. What is also clear is that there is no single ideal solution – one size definitely does not fit all.
The challenge is to develop a strategy that maximises the advances in construction technology and extracts the best out of what is on offer. Knowledge sharing is essential, and clients and contractors must learn from manufacturers' experiences. Most importantly, it is essential that client and contractor expectations in respect of modular MEP construction be managed, so that the aspirations of the project are not set to unachievable standards.
Offsite construction will not solve all the ills of the construction industry, but if an innovative strategy is consistently applied throughout the project process, along with best practice project management techniques, then major benefits will be realised. The opportunities for modular MEP construction are certainly there.
Darren Richards is managing director of offsite construction consultancy, Cogent Consulting
Related links:
Related articles: