Across the network
Stuart Turner explains why a modular approach to boilers for heat networks is a flexible and efficient solution.
A popular choice in heat networks are combined heat and power (CHP) plants. A CHP unit will run continuously to meet the base load heating requirements. In the winter, these will be higher than in the summer. Modular boilers provide an efficient solution to cover or top up the base load to effectively meet peak demands.
Every boiler module can be a separate boiler installed alongside another in a horizontal arrangement, or as a vertical stack. This means a flexible arrangement is possible even in city centre plant rooms, where space can often be an issue.
The operational range of a boiler is defined as the ratio of maximum to minimum capacity, also known as the turndown ratio. A combined high turndown ratio offers a very efficient approach to commercial heating. This can be achieved if, instead of one large, high water content boiler running at less efficient conditions to support CHP, multiple boiler modules are used.
Optimised performance
Benefiting from a low water content and quick heat up times, each module operates at efficient load conditions, yielding energy and carbon savings. And if one boiler breaks down or is serviced, the other boilers can cover the heat demand, so a continuous supply is ensured. Thanks to automatic control, they also gain from even usage across all modules, reducing wear and tear, extending the life of the boilers.
'CIBSE Guidance AM12 – Combined Heat and Power for Buildings' recommends a minimum 30°C differential temperature (delta T) for efficient district heating network design. This allows designers to keep flow rates and pipe sizes small, and to maintain a low return temperature even at low load conditions for more efficient plant operation.
Decreased flow rates result in lower noise in the system, favourable for residential dwellings. Originally, wide differential temperatures were only possible with large, high water content single boilers. Over time, boiler development has advanced, so that some modern modular boilers can achieve differential temperatures of up to 40°C. This means maximised condensing operation with concomitant savings in energy and costs, in a product that is compact enough to fit through a single doorway.
Heat networks supply heat to a large area. This means they are affected by considerable heat losses due to the length of pipework used to transport heat to dwellings. To compensate for those, a boiler used in a district heating network should ideally provide a high operating temperature, e.g. 90oC. For better condensing performance, higher temperature systems will then need a low return temperature which is achievable by wide temperature differentials (recommended as best practice by 'CIBSE/ADE CP1 Heat Networks: Code of Practice for the UK'). A system could then run at 90°C with a return temperature of 50°C to condense most efficiently, given the modular boiler's maximum operating temperature is 90°C with a delta T of 40°C.
A flexible option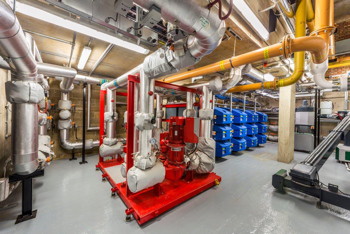 Because heat networks require a long planning phase, requirements can change over time. A concern is often access to the plant room. A large single boiler can cause headaches at the installation stage if space is tight.
Modular boilers, are compact and can even be taken apart in separate modules if needed. The comparably light weight makes them easy to transport. Flexibility is also a plus, as a phased approach to purchase and installation is possible.
All equipment does not need to be purchased and installed right away, but can be split over budget years to ease the financial burden. An expansion of the system can easily be carried out at a later point.
Another possibility is to fit everything at the start but only use the boilers that are needed. As more residents move into dwellings and energy demand increases, the boilers can be switched on incrementally, helping to control costs and energy use.
Modular boilers are an excellent choice for heat networks due to their ability to operate at more efficient lower/minimum load conditions.
A high operating temperature compensates for heat losses around the network. Combined with a low return temperature and wide differential temperatures, they meet the recommendations as set out by CIBSE best practice advice for heat network design. Low CO2 and NOx emissions help to achieve long-term carbon saving targets and to battle air pollution.
Lastly, modular boilers offer the flexibility needed in the long term. Multiple installation options, easy transport and the potential to extend the installation at a later point, facilitate projects that are planned to last.
Stuart Turner is national sales manager at Hamworthy Heating
Related links:
Related articles: