A smart future

To achieve the tough UK 2050 carbon reduction targets, a major decarbonisation of heat production in the construction sector is required. Smart controls have a significant role to play in reducing emissions and energy consumption, proposes Neil Bilton.
When presenting its energy security package last year, the European Commission stated that the energy used for heating and cooling in buildings and industry accounts for 50% of the EU's annual energy consumption. Therefore, the utilisation of smart controls in reducing energy consumption in our buildings is of primary importance.
Thanks to advances in internet connectivity, the capabilities of smart devices are increasing at a rapid rate, with significant implications for heating, cooling and hot water controls in commercial and domestic buildings. Data on the performance of HVAC equipment can be in the hands of building managers very quickly, helping them optimise building performance – spotting maintenance issues before they become faults.
With a view to optimising smart control, Panasonic teamed up with Schneider Electric to develop the Panasonic VRF Smart Controller. This not only offers occupant control, but also offers automatic indoor air quality (IAQ) control into the mix. Built-in PIR, humidity and CO2 sensors work to support comfort as well as energy efficiency.
Wireless interface solutions enable direct serial communication between building management systems (BMS) and room controllers. This integration allows building owners and managers to view all of their core building systems including HVAC equipment, lighting, security, power and electrical distribution anytime and anywhere via a single interface and delivers actionable insights to reduce energy consumption and drive savings.
Historically, control functionality has been an issue for heating and hot water systems. Setting up and programming heating and hot water schedules has often proven difficult for end users, and many people struggle to adjust their schedules once they have set it up. Typically, control systems are also only accessible from a fixed point in the home or commercial space, and the interface can be difficult for users without technical experience of heating systems to operate.
The latest smart controls offer users the ease of use of a smart phone app or internet site. They give users an intuitive way to monitor and manage their heating and hot water production that they can access anywhere – including away from their desks. This makes monitoring of different zones in a building much easier, and allows building managers to reduce energy waste by monitoring use of HVAC in zones that may be unoccupied.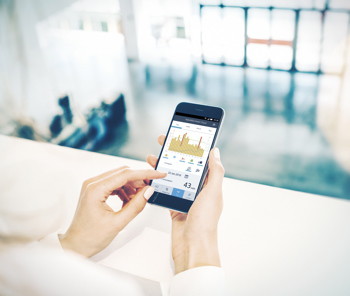 Using technology that intelligent room controllers are able to offer, users can access a detailed breakdown of the system's energy consumption on a daily, weekly, monthly or annual basis. This can help end users compare space utilisation and adjust the system to turn off during quiet periods, so that energy is not wasted heating the home or office space when it is unoccupied. It is crucial for installers to draw attention to this added value that a smart control system can offer, if their businesses are to benefit from the IoT revolution.
Remote access will also enable installers to offer ongoing maintenance contracts to their customers. Maintenance teamscan be engaged in predictive fine-tuning which keeps the heating and hot water system operating at its optimum level for longer. This minimises the likelihood of a system break-down by anticipating maintenance and means a longer lifespan for the system. Installers will also be able to respond more quickly to faults and issues, keeping the end user completely satisfied with their heating systems.
We are only beginning to see what is possible with innovative heating and hot water control. Throughout 2018 and beyond, the industry is set to see new services added to this type of intelligent control system making them even more attractive to end users. The ultimate aim is to provide end users with an environmentally friendly, comfortable, efficient and intuitive heating solution. Breakthrough innovations and partnerships such as Panasonic and Schneider Electric are examples of the steps being taken towards reaching this aim.
To receive the benefits that advanced internet-connected heating and hot water systems offer, end users need to be made aware of this new smart technology by their installers. Smart controls integrated with heating systems can offer end users a more comprehensive, flexible heating and hot water solution that meets their exact requirements. To take full advantage of the business growth opportunities presented by smart control technologies, the plumbing and heating industry would need to fully embrace the innovative and disruptive control technologies that are coming to market which will help analyse and improve the system performance.
Neil Bilton is head of key accounts at Panasonic UK
Related links:
Related articles: