Viessmann makes the connection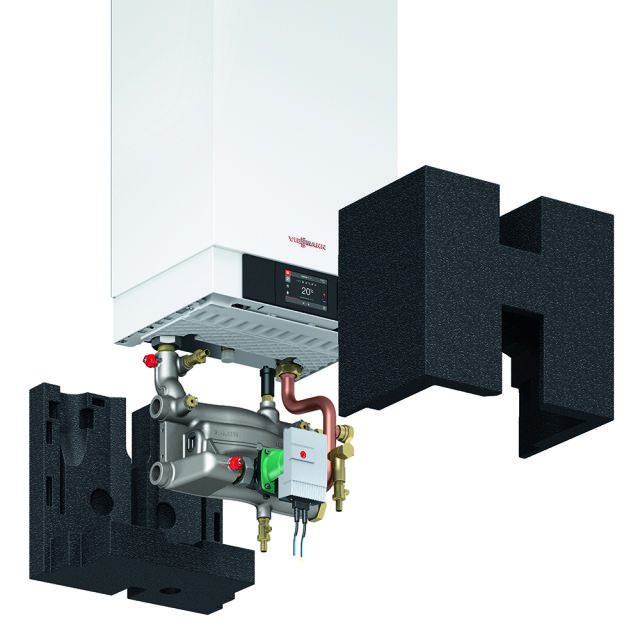 Viessmann has eliminated the need for a separate low loss header and connecting pipework for its Vitodens 200-W commercial wall boiler (49 to 150 kW) by incorporating the header in a new pump connection set. This patented new solution for larger single boiler installations is more compact than having a standalone header, more keenly priced, and quicker and easier to install.
With the new combined connection set, installation is now simply a matter of fitting the wall-mounted boiler and the pump-header unit, using wall brackets or a free-standing frame. Installation is further simplified because the flow and return connection can be on either the left- or right-hand side.
The low loss header increases operational efficiency by acting as a hydraulic separator, decoupling the boiler and system circuits from each other. This is necessary if a greater flow rate is required for the heating system than the boiler, as is typically the case with older heating systems, underfloor heating, and multiple heating circuits. The low loss header also helps eliminate debris from the heating system, reducing pump flow noise.
Viessmann commercial sales director, Jonathan Grist, says: "By building-in the low loss header to the pump connection set, Viessmann's high-output Vitodens 200-W boiler is now compact enough to be installed in tight spaces which other boilers will not fit. The 200-W range is loaded with features and functions to make installation, fault-finding and servicing easy, and the connection set makes the installer's job even easier."
Related links:
Related articles: