Heated debate
Hot topic of the moment is how to supply heating and hot water to buildings while meeting tougher targets on energy and carbon. Craig Dolan looks at the solutions available.
As the energy efficiency of commercial buildings comes under increased governmental scrutiny, specification stakeholders face significant pressure to reduce inefficiencies across every element of a project. One key battleground is heating, where some of the most substantial efficiency gains can be made.
Ensuring optimum efficiency is now more important than ever before and a key component in building development and construction projects. Whether it's a retrofit project or a new build, there is a push from both the Government and end-users for more sustainable building practices, in both domestic and commercial properties.
When considering how best to make energy efficiency gains within a building, heating is an area which can offer one of the highest margins for improvement. For instance, according to the Government's Future of Heating document, nearly half of all the energy used in the UK is for heating, this is reflected in the energy outgoings of many facilities.
Incorrectly designed and specified, or generally inefficient, heating systems, when combined with buildings that have not been insulated to their maximum potential, can lead to considerable unnecessary additional expenditure and emissions for businesses.
According to a 2016 survey by BSRIA, building managers felt a lack of space, high capital cost and poor understanding of technologies prevented an investment in more energy efficient heating systems within their buildings.
It is clear that we face a real challenge in encouraging businesses to adopt efficient heating systems – but there are options that can minimise capital expenditure while offering benefits for both the environment and long-term running costs.
A foundation measure for improving the efficiency of a building is an assessment of possible thermal improvements (such as wall and loft insulation). In fact, British homes now use 23% less gas and 17% less power than in 2008, with increased insulation playing a large role in this reduction – demonstrating the sort of impact that commercial premises could benefit from.
It is also critical that we contemplate how a building will be heated, as well as the level of insulation specified. Renewable, low temperature systems, such as heat pumps, are growing in popularity. The Heat Pump Association (HPA) recently gave evidence to the Government's Science and Technologies Committee about the potential offered by heat pumps for meeting emissions targets, stating "heat pumps are ready and available now and do not need the huge investment being asked for from other technologies…"
Heat pumps work by capturing thermal energy from the outside air or the ground and turn it into hot water and heating. As they're effective at even the lowest of winter temperatures, heat pumps are also well suited to the unpredictable UK climate.
Despite the price disparity between gas and electricity, when correctly installed and commissioned a heat pump is cheaper to run than most other forms of heating and will provide substantial savings, especially for off-grid buildings when displacing oil or LPG which suffer from volatile pricing and are widely viewed as having high carbon emissions.
Both ground source heat pumps (GSHPs) and air-to-water heat pumps (AWHPs) each have their own advantages depending on the application, which should be taken into consideration during the specification process.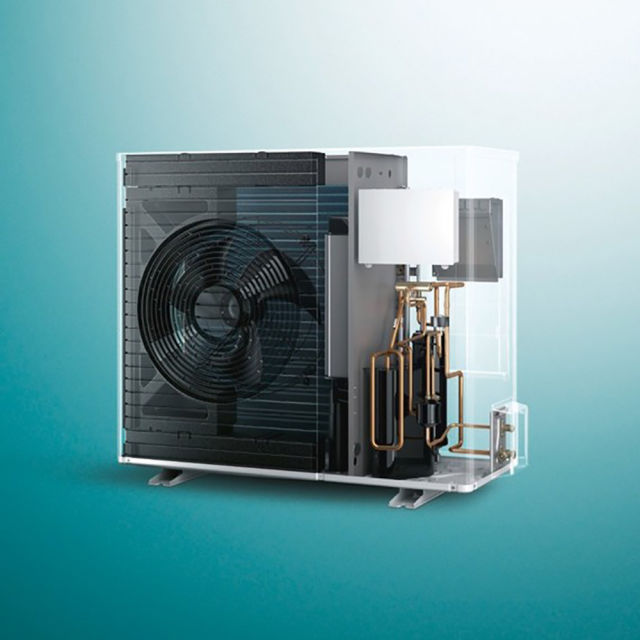 GSHPs simply work by transferring heat through the ground via the movement of water, and, as a result, can be extremely efficient compared to other systems and since they are using less energy, they can be considerably more economical to operate. Equally, because the temperature of the ground is relatively constant, at 10 - 13°C all year round, its operation remains largely unaffected by seasonal changes.
Ground-source heat systems are able to provide heat and cooling for a building by simply reversing the direction of flow within the heat pump. The ability of the units to provide warm or cool air also allows for zone temperature control in larger buildings, these systems can allow heat to one portion of a building and provide cool air to another.
An AWHP takes a different approach to providing hot water and heating by using the energy contained in the air itself. Air source heat pumps extract their energy from the outside air, concentrate it to the right temperature and then transfer it to the heating system.
Due to their efficiency advantages, alongside the ease of installation resulting in minimal disruption, AWHP systems are particularly well suited for refurbishments and smaller commercial applications. These systems are also included in the non-domestic RHI scheme and therefore provide participants with regular financial incentive payments.
Vaillant is striving to aid other businesses with managing their climate risk. This is especially vital following the recent publication of the Committee on Climate Change's (CCC) two-part report. The report warns both business and Government have been slow in "showing they are serious" about tackling and preparing for climate change over the past year, noting that Ministers have delivered only one of the 25 environmental policies it flagged as "critical" in its 2018 report.
In response to climate change warnings like these, Vaillant recently launched the aroTHERM Split – an enhanced version of the aroTHERM model with a number of improvements to its design, resulting in better performance, greater efficiency and quieter operating noise. This unit's new radial front grid concept limits pressure losses and noise disturbances to provide optimal energy efficiency, with an A+++ energy rating and Seasonal Co-efficiency of Performance (SCoP) of up to 4.69. This means end-users benefit from lower running costs, thus saving money over time.
That said, while heat pumps are widely accepted across Europe, particularly in Scandinavia where they are installed in most homes – and have been for many years – they are still relatively niche in the UK, meaning many are uninformed about the options available to them.
This uncertainty, combined with rising governmental pressure to look beyond traditional fuel sources, presents an opportunity for specifiers who are competent in renewables to gain new business by stepping in and educating end users on this unfamiliar new world.
Heating and cooling today's buildings is becoming more challenging thanks to stringent energy efficiency targets, however, with the right solutions building managers can ensure comfort is maintained and costs are driven down.
Craig Dolan is product manager for Renewable Systems at Vaillant
Related links:
Related articles: