Paper points the way to legislating for decarbonised heat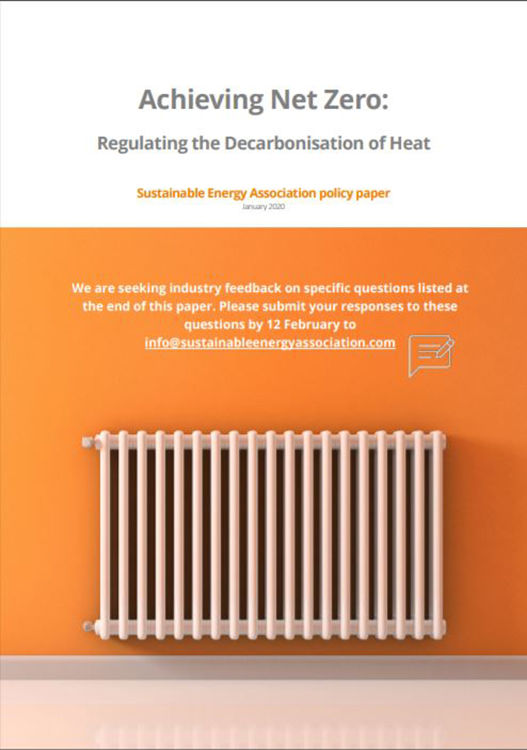 The Sustainable Energy Association (SEA) has published a paper today demonstrating how regulation could put heating on the path to reach net-zero by 2050.
The paper proposes a carbon intensity regulation which would set progressively stricter limits to the permitted emissions per kWh of heating provided. The government has committed to phasing out fossil fuel heating in properties off the gas grid by the end of the 2020s and decarbonising heat to achieve net-zero by 2050 and the suggested SEA regulation sets a pathway to achieve this.
The carbon intensity standard would be calculated by identifying the carbon intensity of the fuel used for heating and the efficiency of the heating system. When a heating system needs to be replaced, it would have to be with a technology that adheres to the emissions standard at that point in time.
To fully decarbonise heating, analysis within the paper recommends that the regulation form part of a whole house approach which including financial incentives for consumers who install energy efficiency measures and established low carbon heating systems.
Lesley Rudd, chief executive of the SEA says: "This regulatory proposal would provide long term certainty to industry and investors and give confidence to the public that the Government's decarbonisation targets will be met. Our proposal does not reduce the number of viable heating options for consumers, rather it provides the framework for low carbon fuels to develop. It should however be paired with financial incentives to encourage already proven low-carbon heating technologies."
The SEA is calling for feedback on its paper which can be provided by email (info@sustainableenergyassociation.com) by 12th February 2020.
Related links:
Related articles: