Industry is ready for the challenge
This month's round table discussion, sponsored by Trend Control Systems, examines the net zero carbon challenge. Karen Fletcher reports
Who's on the panel?
Andrew Geens, Head of Certification, CIBSE 
Darryl Gregory, Sales Leader South, Trend Controls 
Luke Osborne, Energy & Emerging Technologies Solutions Advisor, ECA 
Peter Tse, Head of BSRIA Sustainable Construction Group, BSRIA 
Darren Chenery, Director, E.On 
Alan Mooney, London Regional Manager, E.On 
There is no doubt that the message on the climate emergency is hitting home with the building services sector. For some, the importance of taking action is now very clear. Darryl Gregory, sales leader for the South at Trend Controls, says: "Since we attended the BSRIA Briefing in 2019, we have been thinking about climate change and the role that we play in it.
"As a manufacturer we have a huge amount of installed systems in the market, whilst at the same time we are developing future technology. So we are trying to find a path between how we take care of new buildings in the future, while asking how we can help customers make the most of the systems they have already invested in."
One of the main hurdles to overcome is encouraging the building owners to get to grips with energy efficiency as a key driver of lowering carbon emissions. Peter Tse, head of BSRIA's Sustainable Construction Group says: "I think lower carbon and more energy efficient buildings are possible, both for new-build and existing stock. But it can be difficult to motivate owner/operators. They need to have a business case for not continuing to do what they have always done. It's potentially up to the suppliers to demonstrate the savings of working differently. Owners have a lot of investments they could make and if the drivers are not there to take the energy efficiency route, they may choose to invest in different things."
Andrew Geens
Certification drivers
The Minimum Energy Efficiency Standards (MEES) legislation was designed to offer exactly the sort of driver that Tse highlights. Andrew Geens, head of CIBSE Certification explains: "MEES were introduced in April 2018 and set a minimum Energy Performance Certificate (EPC) rating of E for leasing a building. This means that buildings with an F or G EPC rating cannot be leased. Government is now consulting on raising that minimum requirement over the next ten years to a B, unless there are some very good economic or technical reasons for not doing that."
However, recent analysis has thrown up some issues with the scheme. Creating an EPC requires the assessor to gather a certain amount of data about a building. Geens points out that this is not always easy to do, particularly when landlords are keen to move forward quickly with a lease arrangement: "The rules of EPC production say that if you can't find the information you need, you must use default values. They are the worst case scenario in order to discourage people from using them. But if you are keen to sign a contract in a hurry, then you use default values."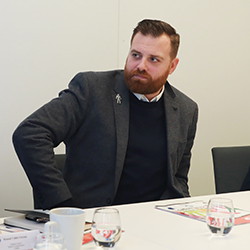 Alan Mooney
The statistics from MEES since their introduction show that about 20% of existing buildings only achieved and F or G rating. However, since an unknown proportion used default values, this may well be an inaccurate picture. As a result, many portfolio managers are now having their EPCs recalculated.
"Anecdotally I've had a lot of assessors tell me they've looked at the EPC that was already on the building that was an F and G they turned out to be C or D," adds Geens.
MEES have worked to an extent - they have focused building owners on energy efficiency to a certain extent. Alan Mooney, London regional manager for E.On Control Solutions says: "Clients are more concerned about energy consumption than they were in the past. But it is a challenge on the controls servicing side of things, because they might not have the most efficient boilers, heat recovery units or AHUs. And our job is to try to make it a lot more energy efficient by using the controls technology. So that is definitely a challenge."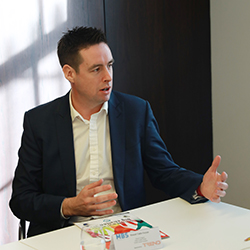 Darryl Gregory
Engaged clients
The panel agreed that a motivated client makes achieving an energy efficiency easier. Darren Chenery, director of E.On Controls recalls one such project. He says: "The client was highly focused on achieving a project that was 100% compliant with the specification design intent. This included the control system, and we had a full witnessing programme at the end of the project to ensure that every item of plant was interfaced with the controls."
Not all clients have that level of focus. Chenery says that value engineering is still an issue: "Specifications are filtered down through value engineering cost challenges and interpretation of the specification. So the final controls system that is handed over doesn't quite meet what was intended at the start. It is a challenge for us to get further up the food chain. There are not many projects where you are asked to work alongside a consultant to develop a scheme that really is smart and that's delivered as intended at the end."
Educating clients about the technology available is considered key. Luke Osborne Energy and Emerging Technologies solutions advisor for the ECA says: "There is an issue of responsibility and making building managers more responsible for their energy use. Something like a carbon taxation would be a driver to entice people to actually use all the tools they have in their box and actually make these changes that need to happen."
Luke Osborne
Keeping clients informed of new developments that can support smart building operation is also very important. Osborne cites the example of Power over Ethernet (PoE) which is finding greater traction in buildings: "We are keeping a close eye on PoE as we believe it has the power to be a really swift game-changer. It can deliver safe, addressable energy to literally everything in the building apart from high voltage users such as chillers and motors. It has a great deal of potential. If you have onsite generation of DC from solar panels, you don't then have to convert to AC. So there are lots of things to consider with this technology, but people need to understand it."
The technology to achieve lower carbon, energy efficient buildings exists today. The current stumbling block is motivating building owners and managers to apply it. In fact, it may not even be a case of buying new technology – but simply of using what's already there. Darryl Gregory says that active maintenance with a focus on energy is a good place to start: " What is the point of trying to maintain a building because you're not achieving the goal of making it more efficient? The team has to be challenged to say they have to achieve a 5% energy reduction against the previous year and maintain the system in a way that drives energy efficiency."
Continuous improvement
Andrew Geens says that adoption of management systems such as ISO 15001 can be helpful in this way: "The underlying principle is one of continuous improvement. You don't rest on your laurels and accept the status quo."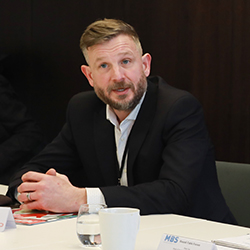 Darren Chenery
All the delegates agree that legislation is needed to motivate property owners to change practices. Government is pushing the motor industry and consumers towards electric vehicles, even ahead of charging and battery technology capabilities. Yet it seems unwilling to take a strong line on the built environment, where the technology to achieve tighter targets has been in place for years.
Geens points to the Energy Savings Opportunities Scheme (ESOS) which requires qualifying companies to inform themselves about what energy savings opportunities might available in the business. "Those regulations fall short of requiring that those opportunities be implemented. They also ask for the opportunities to be assessed using life cycle analysis so that the full benefits are recognised, but simple payback analysis is acceptable if you can explain why. This isn't quite the same as saying you must do it. If you write regulations in a way that allows people to take the easier route, most people will do that."
Gregory agrees: "We need tougher regulations that are written by people who understand how you can work around them."
Mooney says: "I think if the regulations were there, it would switch the mentality from cost-driven to more energy efficiency focused. We can go into a project with all the good intentions in the world, but if clients won't invest for the long-term there is nothing we can do."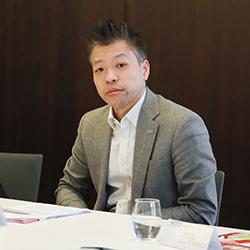 Peter Tse
Osborne adds: "We also need this swiftly, because the longer these things are left, the fewer opportunities there are to take them up. You've got installers, companies who have the technologies and wherewithal to provide the solutions to climate change and it's here now. We are not waiting for technology, we just need the drivers. Government is trying to find out how to accomplish net zero carbon by 2050, but our sector is saying 'We have the tools to do it, just legislate, and we'll get it done'."
Related links:
Related articles: