Boosting the efficiency of gas-fired DHW systems
With efficiency of gas-fired water heaters approaching 100%, PAUL MARSDEN discusses how considering the total system can further enhance efficiency.While renewable and low-carbon systems are increasing in numbers, they still account for only a small percentage of the total number of installations being specified new-build and refurbishment projects in the UK. For many, there is still much concern over capital cost, payback and overall effectiveness. An example would be solar hot-water generation. This type of system needs to be installed with a traditional water heating system, to provide back up for peak demand and/or lack of sunshine
The high recovery rates of storage water heaters such as Lochinvar's LBF balanced-flue range minimises the storage volume required.
Unless legislation forces change, building-services plant using fossil fuels will remain the predominant choice for the foreseeable future.
Approaching the limit
Such equipment includes heating boilers and independent direct-gas-fired water heaters which are approaching the limit of maximum available efficiency. Many products offer gross efficiencies in the low-to-high 90% range. With space-heating installations, many building-services engineers are now looking much more closely at the systems themselves to generate further efficiency gains. The next question is whether the efficiency of systems where hot water is generated using direct-fired water heaters can be increased. The answer would have to be it can. Direct-fired water heaters, both storage and non-storage, already make efficient use of energy. Also, because of their high recovery rates, the storage required can be kept to a minimum. This small storage requirement contrasts sharply with traditional calorifiers where there is much more of a need for storage due to the longer time required to regenerate the hot water levels. An example would be to consider a storage water heater such as the LBF balanced-flue range, which has a storage capacity of no more than 350 litres and recovery rates up to 1590 l/h through a 50 K temperature rise. High-output non-storage water heaters, such as some of the copper-fin products currently available, typically have only 10 to 40 litres of storage yet are able to produce large volumes of hot water instantaneously, up to 9440 l/ h through a 50 K temperature rise.
Careful consideration
When designing a system, three points need careful consideration. 1. Many installations comprise at least two heaters, and often each is sized to cope with, say, 66% of the peak hot-water load. 2. Often a margin of 10% will be added to the determined peak hot-water load. 3. The amount of hot water contained within the system distribution pipe work can be significant, especially where secondary circulation is utilised (as is often the case), so it is very easy to end up with a system oversized by as much as 40 to 50%. Hot-water sizing is, at best, subjective. However, leading manufacturers, some of which have been supplying equipment for the past 30 years, have a wealth of expertise in how buildings use hot water. Computer programs are now available from leading suppliers and have been developed to help specifiers determine a building's peak hot-water demand and select the most appropriate equipment to meet these requirements. These have been developed taking account of published data such as that found in CIBSE Guide G, specialist information supplied by manufacturers of equipment (including showers, dishwashers and washing machines), as well as the expertise of the suppliers of water heater. This guidance has led to much more accurate sizing and selection of equipment now occurring in many instances.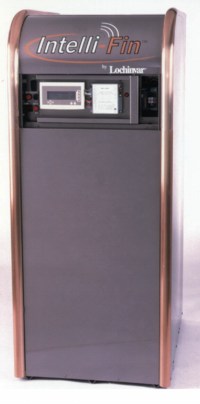 Water heaters that can produce large volumes of hot water instantaneously, such as Lochinvar's copper-fin products, have only 10 to 40 litres of storage.
Those responsible for specifying equipment will always want to build some spare capacity into a system to avoid a shortage of hot water. Such a shortage could result in many customers or end users losing revenue, and this can be significant — for example, a hotel having to refund the cost of a room or rooms, or a food manufacturer having to call a costly halt to production. However manufacturers of water heaters need to continue to in their efforts to assist the specifier or engineer when selecting equipment. If the level of over-sizing common in many of today's systems can be reduced, even by marginal amounts, then this has to be good news for energy consumption and emission levels alike.
Paul Marsden is UK sales manager for Lochinvar Ltd, 7 Lombard Way, The MXL Centre, Banbury, Oxon OX16 4TJ.
Related links: