Driving the pace of prefabrication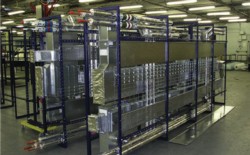 ROBERT HUGHES explains why prefabrication is the way forward for building services and how the management of such projects is developing.The UK construction industry is now spending around £1billion annually on prefabrication — of which a mere £40 to 45million is allocated to building services plant and pipework. Traditional thinking among UK building-services contractors, which has driven the selection of M&E components along the historic lines of spreadsheet purchasing based almost entirely on material costs, is still surprisingly prevalent.
Added value
In recent years, however, improved design-and-management techniques have encouraged more enlightened contractors to seek out and consolidate 'added value' via off-site pre fabrication at relatively early stages of a project. The benefits of this approach, which invariably include savings in labour costs and on-site installation time, are no longer lost on the industry. Latterly, a growing number of major M&E contractors have set up their own in-house pre-fabrication facilities. More interestingly, however, independent players have entered the arena, offering fresh thinking and innovative production methods that are now superseding the outdated attitudes that have dogged the sector. One such independent is my own company, MEP Solutions, which is enjoying remarkable success in the engineering and manufacture of off-site pre-fabricated services modules that support insulated piped services, ductwork, electrical containment and electrical distribution accessories for the building-services and related industries. What singles out MEP Solutions however, is our use of advanced and dedicated, in-house developed software on all our projects. Using this software enables our engineers to produce fully dimensioned and spatially co-ordinated manufacturing drawings, complete with bills of materials and 100% accurate quotations, in just 20% of the time required by traditional methods.
Walsgrave Hospital
The viability of this approach was highlighted early in MEP's history on the Mental Health Unit phase of Coventry's £335 million Walsgrave Hospital PFI project. Key to the success of an ambitious building programme — which saw 15% estimated savings in services installation costs and a 10-week reduction in installation time — was the decision by main contractor Skanska to pre-fabricate services off site and install them in unison with the structural building work.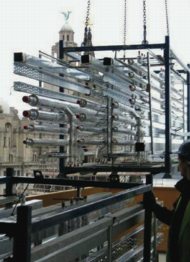 Against the backdrop of the Liver Building in Liverpool, a prefabricated module is craned onto the roof of the Unity Building.
We delivered to site the first 20 of some 400 modules, complete with insulated pipework and fittings, valves, containment and even supply and extract ductwork a mere two weeks from inception.   Walsgrave was the first project on which we linked our software with an externally created 3D model. The availability of the model enabled potential problem areas to be identified up front and steps taken to eliminate them. It also assisted enormously in the creation of 'as-fitted standard' layouts without the need of any later adjustment. Running information from the model through our bespoke software allowed fully co-ordinated manufacturing to be turned around in record time.   Using this software on all our prefabrication projects enables a typical consultant-designed 2-dimensional floor layout for, say, 60 building-services modules to be converted into a fully co-ordinated and modularised drawing in about 15% of the time traditionally needed. In fact, a client's electronic layout can be converted into spatially co-ordinated drawings and a bill of materials and fixed price quotation produced in less than three days. Also, although the system itself is bespoke, it was designed on an AutoCAD platform, so we can e-mail clients industry-standard drawing layouts, which can still be overlaid or interrogated by them if necessary.
Advanced CAD
The ongoing development of such advanced CAD systems is proving to be a major factor in breaking down the resistance to off-site prefabrication that still exists in some quarters. Off-site prefabrication reduces labour costs and on-site installation time, allowing contractors to deploy their labour forces more efficiently. It also increases site productivity by about 80% by minimising site operations in often uncomfortable, surroundings and inclement weather conditions. Further, it cuts out on-site competition among trade contractors for limited space within ceiling voids and risers, thereby ruling out unnecessary delays. Quality levels can be maintained as well, since off-site production can be controlled to tolerances as small as 1 mm as against the 10 to 25 mm normally achievable on site. Flexibility can also be built into system designs. For example, we fit all services modules with slip couplings, providing 25 mm tolerances at each end to allow for inaccuracies in the building structure. In addition, all piping joints are pressed, lagging is fitted to the correct standard, and all modules are pressure-tested before delivery to site. This, of course, also reduces the chance of on-site damage to both lagging and services components. Our initial investment in time has paid off handsomely and is attracting ever increasing approaches from both contractors and building-service consultants for use on prestige projects. In the last couple of years, we have engineered and produced prefabricated services modules for installation in large-scale projects at Stoke Mandeville Hospital, Manchester Royal Infirmary, Durham University, Health & Safety Executive and a host of landmark commercial office complexes throughout the UK. In 2005 we won the 'Innovation of the year' category of the Building Services Awards and were runner-up in the 'Best practice' category. Also, in 2004 we won the Orange 'National business of the year award' for the Midlands region.
Rosy future
We see an extremely rosy future for off-site prefabrication. Current and future large-scale UK building projects are, and will, undoubtedly continue to cause serious skilled-labour shortages. Prefabrication has for some time been recognised by BSRIA and more recently CIBSE as the logical way forward for the construction of new buildings — if for no reason other than it greatly enhancing a project's potential for delivery on time and within budget. It is up to the construction industry to recognise the potential and benefits of off-site prefabrication and get on board as soon as it can.
Robert Hughes is managing director of MEP Solutions, 2 The Gardens, Coleshill Manor, Coleshill, Warcs. B46 1DL.
Related links: