Avoiding heat and pressure losses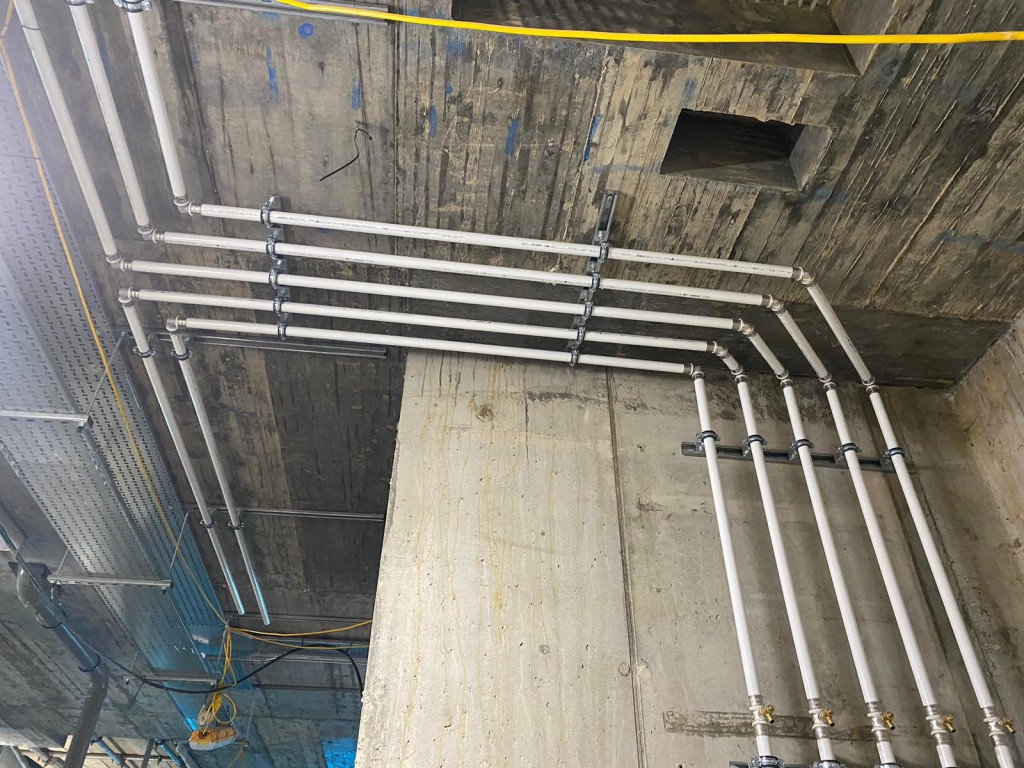 Dave Lancaster, Senior Category Manager – Commercial at Uponor, explains the importance of ensuring building services pipework is specified correctly and of choosing high quality pipe systems designed to minimise pressure and heat loss.
The design and specification of the building services pipework can have a significant impact on its performance and the experience of occupants, especially for large buildings.
Carefully considered design and specification of heating and water distribution system pipework is important in any building. However, where extensive pipework is required, the length of pipe and number of fittings means the impact of product choices is larger.
What are the key concerns?
Among the biggest concerns with incorrectly specified or designed pipework is low water pressure. Low pressure is not only inconvenient for building users but can also lead to contamination issues, especially for drinking water supplies. Low pressure can result in the backflow of contaminated water into the supply pipework. This typically happens where pressures are higher within a water system than in the supply pipework and water is forced backwards.
There are also issues around heat loss or gain within the system. Maximising efficiency and performance are obviously a priority, especially with the changes to Part L introduced in June 2022, and the recent increases in energy prices. However, the hygiene of water supplies can also be a concern. Bacteria, including legionella, thrive in water at temperatures between 20°C and 45°C. That is why it is recommended that hot water is provided to the outlet above 50°C and cold water at below 20°C. While these temperatures may be achieved at the point of supply or where the water is stored, any heat losses or gains as it travels through the building must be avoided.
What are the causes?
Incorrect sizing of pipework is one of the biggest causes of pressure losses as well as heat losses and gains. Undersized pipework restricts the volume of water that can be supplied to the outlet, resulting in low pressure and flow rates. However, larger pipework significantly increases the volume of water in the system. If this does not match the levels of demand, the water may remain in the system for extended periods of time. This stagnation, and the possible heat gains that occur as a result, mean that there may be serious hygiene concerns where water remains in the system for more than the recommended three to five days.
The height of the building is a key consideration as, on average, every three stories in height will reduce the pressure by almost 1 Bar. The distance from the point of supply to the point of use on each floor will also affect the pressures. Therefore, it is important for sufficient pressure to be created and maintained to not only supply the water to every floor but also sustain the necessary pressure to the water outlet.
Solving the issues of pressure and heat loss
The approach to pipe sizing will differ depending on the type of system. For example; different calculations are required for domestic and commercial properties. Best practice guidance can be drawn from a variety of sources including British Standards such as BS EN 806 and BS 8558, Part L of the Building Regulations and CIBSE guides – in particular CP1 (2020), the Code of Practice for Heat Networks. In addition, some leading plumbing system manufacturers provide software tools to help installers and specifiers calculate the correct sizing for pipework based on the specific products selected.
For final sections of pipework used to connect individual outlets, it is also valuable to consider the use of small-bore pipework. By specifying pipe as small as 12 mm for these sections means a smaller volume of water is held in the pipework. As a result, the tap has to be run for a shorter time before hot water is supplied at the outlet. This improves the experience of users, increases energy efficiency and reduces water waste – helping to ensure compliance with the Part G requirement for a maximum water usage of 125 litres per person per day.
Pressure is also impacted by the combined effects of every component within the system including the pipe and fittings. Therefore, there are clear advantages to reducing the number of joints, connections and elbows wherever possible to minimise resistance.
Multilayer composite pipe
For many applications, multilayer composite pipe (MLCP), which is constructed from an aluminium core with internal and external layers of polyethylene, is ideal. This construction gives the pipework strength and durability as well as flexibility. MLCP is highly suitable for large-scale projects as, depending on the manufacturer, it is available in a range of coil lengths. For example, Uponor Uni-Pipe PLUS MLCP is available in coils of up to 500 metres.
The flexibility of MLCP also means that it can be shaped either by hand or using handheld tools to create a bend rather than two sections being connected using an elbow joint. This not only speeds up installation, reduces costs and eliminates the potential for leaks but can also help maintain system pressure by minimising the number of connections. This is especially true for manifold plumbing schemes where the use of MLCP allows the number of fittings between the manifold and the point of use to be significantly reduced or even eliminated.
However, the choice of fittings is also important as this will impact the performance. While it may be tempting to select the lowest cost fittings, this can in fact be a poor investment. Selecting fittings that have been engineered with flow optimised designs can help maintain the performance of the system as a whole. For example, Uponor S-Press PLUS fittings achieve low zeta values (the measure of resistance) and up to a 60% reduction in pressure losses compared with other MLCP press connections.
Finally, heat losses and gains can be minimised in part through good design. For example; by keeping cold water pipework away from sources of heat. Insulation of pipework is also an important element of the installation. In appropriate areas of the building, this can be simplified through the use of pre-insulated MLCP. Coiled in lengths of up to 75m, the pre-insulated pipes can be quickly installed with continuous, unbroken insulation of up to 13mm with a constant vapour barrier.
The design and specification of system pipework can have a significant impact on the performance, especially with regard to minimising pressure losses. By reducing the number of connections and joints using MLCP and selecting high-quality, optimised fittings, installers and specifiers can help deliver the required performance and a positive user experience.
Related links:
Related articles: