The European influence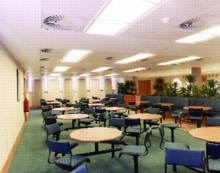 Terry Farthing reviews how the steady influence of air-distribution systems from Europe have shaped the UK air-conditioning market.The air distribution market has historically been influenced by the American market, and products developed over there were soon commonplace in the UK. However, in more recent times the European market has had a significant impact on the trends in the UK with some classic examples which have now become well established systems.
The rise and fall of VAV
In the late 1970s, dual-duct and constant-volume boxes gave way to VAV, offering fully variable air volume. This concept was developed for the American market as a completely flexible system which not only saved energy compared to constant-volume or dual-duct systems but also gave the property developer a system which could adapt to a wide range of cooling loads — and thus potential tenants. It soon became popular in the UK, with a number of companies manufacturing VAV systems. In the 1980s most property developments used VAV, and the ubiquitous fan coil was relegated to second choice. Such was the popularity of VAV systems that letting agents advised clients that unless they installed VAV air conditioning rental values would be lower. Drawbacks of VAV systems were that at lower air volumes there could be a risk of the diffuser dumping, and at minimum airflow the unit being so quiet complaints could arise as people did not think the air-conditioning system was working. These problems were overcome by another development of fan-powered VAV unit. It had all the benefits of VAV but was also a constant-volume device. The primary air volume was varied and the secondary air flow via the fan gave a more or less constant total flow. In 1991 the VAV market reached its peak, with a market size approaching £30 million. Today the market has reduced dramatically to around £7 million. So what happened, and why have changes occurred?
The European influence
First of all, the influence of European systems gained pace when architects and consultants took on many projects in Europe due to the downturn of work in the UK and elsewhere. Secondly, and possibly for a similar reason, European manufacturers were trying to expand their market share in the UK and strengthen their sales and marketing teams. Through these two factors the market became that much more exposed to European systems and products. Yet another influence was the harmonisation of various European standards that had been taking place for sometime and was still continuing — but with no early progress. For example, the new standard on fire dampers was first in committee stages during the early 1990s within CEN, but it is only in April 2007 that the new BS-EN 1366 was adopted. These influences brought about significant changes to the market for air distribution terminals. For example, chilled ceilings, which were very popular in Europe as passive cooling systems, produce very high levels of comfort with low air velocities and low air turbulence. They were generally used in conjunction with floor diffusers in the displacement mode, also a European type system. The major difficulty with chilled ceilings was that the heat loads within Europe tended to be very much lower than those required in speculative office buildings in London, and their 70 to 80 W/m2 of cooling was insufficient to win a large share of the market.
Multi-service chilled beams
At this stage, another European system was integrated with the chilled ceilings, namely chilled beams. These were initially installed on the perimeter of buildings to deal with the high heat loads, with chilled ceilings for the central areas. It soon became apparent that the chilled beam had many advantages over passive chilled ceilings, and buildings very rapidly went completely over to chilled beams. It was at this point that Trox UK looked at using its European beam expertise to develop an exposed multi-service chilled beam (MSCB), the first installation being for the Barclaycard Centre in Northampton in 1996. MSCB systems was a new idea and took time to develop, however it is now one of our most important terminal air-distribution systems. It is rapidly taking over from fan-coil systems and being exported to many countries outside of Europe. Displacement flow was more of a Scandinavian system. Although it is used in the UK, it tends to be for bespoke comfort air conditioning solutions or, alternatively, industrial establishments.
Further European influence came with the introduction of high-induction diffusers to the UK market. These can either be slot diffusers, with the high-induction air-control cylinder mounted centrally, or the swirl type, which is suitable for high heat loads and air-change rates of up to 30 per hour. The most recent European system that could take off in the UK is decentralised air conditioning incorporated into the cladding of a building and doing away with space-grabbing air-handling plant rooms. It also removes the need for false ceilings and distribution ductwork — ensuring effective and flexible use of the office space. The UK air-conditioning sector is facing one of its most significant challenges in reducing the carbon footprint of buildings. Through investment in R&D resulting in innovative energy-saving solutions, Trox is well placed to play its part — the European connection will help as well.
Terry Farthing is head of communications at Trox UK.
Related links: