The self-contained solution for commissioning fan-coil units in variable-flow water systems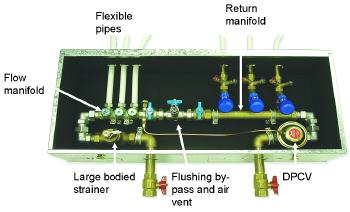 Effective commissioning of chilled-water systems is vital to their efficient operation — even more so when variable-speed pumps are used. SAV has responded to the challenge with commissioning sets that make possible the balancing of several fan-coil units from one point.Since SAV introduced its centralised commissioning module for the proportional balancing of fan-coil units three years ago, the use of variable-speed pumps has developed apace.
More responsive
In principle, variable-speed pumps enable chilled-water systems to become more responsive to demand and more energy efficient. The slowing down of the pump in response to reduced demand for chilled water as fan-coil units shut down reduces energy consumption rapidly; a pump running at half speed has an eighth of the energy consumption of the same pump at full speed. Also, chilled water is not moved around the system unnecessarily, avoiding further energy waste. The trick to exploiting the benefits of variable-speed pumps is to install a differential-pressure control valve (DPCV) in the main circuit that maintains a constant differential pressure as the demand from sub-circuits falls. Unfortunately, the resultant variable-speed flow in a system can lead to high differential pressures reducing the authority of remote valves to such an extent that they no longer control flow but merely act as on/off valves. The result is an overshoot on cooling and heating. Over-cooling by 1 K from 22°C to 21° would increase energy consumption by about 12%. Overheating by 1 K would increase energy demand by about 7%. SAV's imaginative response to the problem was to develop its successful commissioning-module concept to exploit the benefits of variable-speed pumps. A differential-pressure control valve in a module serving from two to six fan-coil units ensures that the flow to individual fan-coil units it serves is maintained as some close and others remain open. This approach enables 2-port valves to be used, rather than 3-port valves that maintain overall flow by sharing it between a fan-coil unit and a bypass loop. Within each sub-circuit, the flow to individual fan-coil units is maintained so as to achieve the desired comfort conditions and maximise energy efficiency. A single large DPCV is no longer required in the main circuit, it being replaced by, perhaps, four or five smaller and cheaper DPCVs located in the commissioning modules themselves. The service provided by SAV bridges the gap between designer and installer. The designer specifies the flow rates required. SAV then calculates pipe sizes and selects 2-port control valves, double-regulating valves and DPCV for each module. Connections to fan-coil units are made by the installer using semi-rigid pipe comprising plastic and aluminium layers. The consultant checks the figures, and SAV's designers have professional-indemnity insurance.
Factory assembled
The factory-assembled and tested module is installed into a thermally insulated and hermetically sealed enclosure to prevent condensation. On delivery to site, the modules are installed in the ceiling void, pipe runs made to the fan-coil units and primary circuits. 'We are designing and building such modules all the time,' says managing director Lars Fabricus, 'so we have developed a high degree of proficiency. In contrast, consulting engineers and contractors only do this work occasionally.' Unlike conventional proportional balancing, commissioning modules are not susceptible to drift cause by air and debris. Their settings do not have to be checked by a consultant within, say, 24 hours. Lars Fabricus explains, 'Every module has its own DPCV gatekeeper, so there is no drift.' In line with the submetering requirements of the Building Regulations, energy meters or pulsed-output flow meters can be installed into a commissioning module. From flow- and return-temperature data and water flow, a BMS can calculate energy use. Designing for commissioning is skilled work — as is installing the appropriate equipment correctly. SAV's innovative approach to commissioning for wet systems with variable-speed pumps makes a vital contribution to ensuring that such systems will be properly commissioned and that there will be no subsequent drift.
SAV Valve Systems is at Scandia House, 131 Armfield Close, West Molesey, Surrey KT8 2JR.
Related articles: