Airedale partners with Prism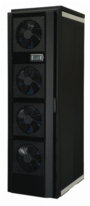 Airedale and Prism have set up a partnership to introduce the OnRak range of expandable, high-efficiency, rear-door heat exchangers. These 32 kW units can be integrated with a Prism cabinet or aisle-containment solution or adapted to fit any rack. OnRak has an EER of over a hundred and optional N+1 redundancy. These units are part of Airedale's LogiCool range.
Airedale's product planning manager Fin Farrelly says, 'We have the breadth of solution and expertise when it comes to high-density cooling. Add this to Prism's experience in quality enclosures, and we have a best fit venture to provide quality, adaptable data-centre cooling solutions.
Related links:
Related articles: