Friaphon scales new heights in Cork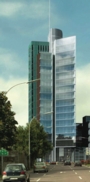 Durapipe's Friaphon sound-attenuated drainage system in sizes up to 160 mm has been installed in a new landmark building in Cork. The 17-storey Elysian is the tallest in Cork. It consists of 212 apartments, two storeys of office space and five retail units. As with many multi-occupancy buildings, reducing the noise of sanitary installations is important, so the Friaphon system was installed for all soil and wastewater drainage.
Contractor Bowen Group chose Friaphon over other products for its cost savings and sound attenuation. Friaphon is a push-fit system that does not need to be lagged.
The apartments range from one-bedroom units to a luxury 4-bedroom penthouse.
For more information on this story, click here:
July 09, 135
Related links:
Related articles: