The rewards of investing in engineering
Engineers should argue the financial benefits of investing in reducing energy consumption and costs and compare them with other, riskier, forms of investment argues Mike Malina.
Big business is, once again, lobbying against environmental legislation. The recent World Business Summit on Climate Change in Copenhagen heard an impassioned plea from the leaders of some of the world's largest corporations for the brake to be applied to 'costly' measures aimed at curbing carbon emissions.
They are worried that the successor to the Kyoto Protocol, due to be signed at the end of this year, will force industry to invest more in a 'greener' infrastructure. In Copenhagen, they argued that the collapse in the global price of carbon (it was down to around Eu10 per tonne earlier this year from a peak of 75% higher in 2008) had made carbon trading uneconomic, so pulling the financial rug from under the feet of firms intent on projects like clean coal technology.
Finance directors continue to base their decisions on arbitrary budgets and seek to apply existing monetary rules to 'green' investments. Members of the M&E Sustainability initiative, supported by the Electrical Contractors' Association and the HVCA, are sick and tired of being told that their project submission was great but the client wants it changed because they have 'no budgetary provision for a 3-year payback'.
However, as M&E engineers and consultants, we cannot simply throw our hands in the air and walk away when we are yet again confronted with financial stonewalling. We have to learn to talk the accountants' language.
First, we must establish from finance professionals what they consider a good return on investment. Investors have a series of choices. They can put their money in a deposit account or risk the ups and downs of the stock market. Assuming they decide to place their money in a reputable and 'safe' deposit account, they could expect, at most, a 2 to 3% return per annum — probably less this year. An index tracker, for example, the FTSE 100 or a more risky fund, or even an individual company stock, could offer greater potential rewards, but also a massive risk.
If we apply the same rules to investment in a sustainable building, the risks are negligible and the rewards far more handsome. Not only can you accurately predict the return through the physical characteristics of the project, but you will be able to measure the performance of the return, by logging the actual energy usage. Ultimately the energy bills do not lie.
We need to use financial language to plead the case for an 'energy hierarchy' that starts with energy efficiency as a first step to ensure demand is as low as possible before renewables or low-carbon technologies are applied. By explaining the position in these terms, engineers can demonstrate impressive returns on clients' money.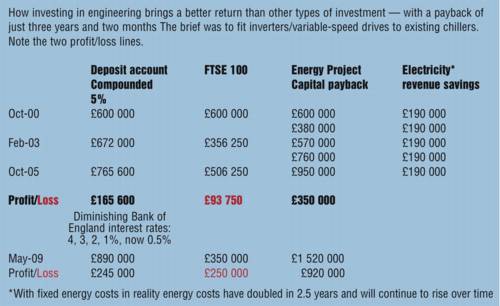 So let's examine the M&E engineer's financial model by looking at one real-life example to demonstrate how much harder the money the client spent on energy efficiency measures could work compared with the return from leaving it in the bank or squandering it on a stock-market gamble.
The end client had £600 000 to spend. The management decided to spend it on upgrading large chillers to improve their energy efficiency, and the return on that investment was measured in financial terms.
The brief was to fit inverters/variable speed drives to existing chillers. The table compares the return on that investment with other investments in financial terms.
The drives were installed October 2000 and financial returns measured to October 2005. The financial returns have since been re-calculated to May 2009.
This is a simple method with a straight line payback. Financial directors and company accountants could apply this in a more sophisticated way to include net present value, and internal rates of return to make the financial case look even better.
The arithmetic is pretty persuasive (just look at the two profit/loss lines), but we are up against a very short-term approach to economics when it comes to buildings, and people rarely look at the long-term running cost. Why? Partly because we in the building-engineering world have not communicated this message very well. We have not been using the right language, so too many building operators still think sustainability is expensive. Many, given the choice, will go for 'sexier' renewables instead — so missing the opportunity to make real savings.
If we can get the presentation right, there is a massive business opportunity for M&E firms. Contractors know how to tackle energy waste; often they just don't realise how much they know.
The thermal performance of a building can be improved by a series of simple measures such as fitting more insulation, improving air tightness, upgrading windows, fitting more appropriate controls and renewing or upgrading boiler and chiller plant. This is all bread-and-butter stuff for our sector, but we must use the right language to sell the benefits.
Mike Malina is technical consultant to M&E Sustainability. www.mech-elec.org.uk
Related links:
Related articles: