Eaton-Williams helps university boost its computer power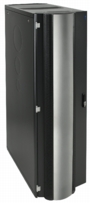 Heat from new high-density server racks at Warwick University is being removed by rear-door heat exchangers (illustrated) from Eaton-Williams Process Cooling, avoiding additional load on the existing CRAC (computer-room air-conditioning) units. The project at the university's Centre for Scientific Computing is one of the first to benefit from these rear-door units, which are based on chilled water.
The university worked with consulting engineers Couch Perry Wilkes Partnership in the application of these rear-door heat exchangers.
Initially, six cabinets each housing 40 servers had RDHx units installed in conjunction with a downflow CRAC arrangement to remove up to 15 kW of heat from each rack using a traditional chilled-water system. How air from the server rack at up to 45°C passes through the rear-door units and is cooled close to room temperature — about 20°C.
The chilled water is produced by two process cooling units, and 150 kW of heat can be removed with only 2.6 kW of pump power.
This approach has enabled Warwick University to introduce high-density equipment into its data centre with zero thermal impact.
For more information on this story, click here:
Aug 09, 132
Related links:
Related articles: