The BEMS as a tool to prevent energy waste
Joe Douglas explains how easier access to BEMS data and the development of software tools to analyse it are helping to prevent energy waste
In addition to its control functions, a BEMS typically monitors and records a wealth of information relating to conditions within a building and the operation of the HVAC and other services. Increasingly its duties also include the logging of energy-meter readings, a trend that is likely to continue as demand for sub-metering grows.
On most systems, data and settings are accessed through PC-based graphical user interfaces (supervisors). In their modern form these powerful devices allow the user to quickly navigate to the information they want to see and view it in a form that is easy to understand. When the supervisor is enabled to function as a web server, its displays can be viewed from any PC on an organisation's IT network — or via the Internet — a standard web browser being all that is needed. Importantly, the data and settings available to a user can be exactly tailored to that person's needs.
With the advent of BEMS controllers that are designed to run on TCP/IP networks and which incorporate a web server, it is even possible to access data and make control adjustments without using proprietary supervisor software. However, because of their many powerful features and the fact that they permit system-wide or even multi-site management and monitoring from a single point, BEMS supervisors are still strongly recommended in most cases.
Today's BEMS technology effectively allows easy and secure system access to anyone who needs it from wherever they happen to be, whether in the building itself or at some distant location. The use of intranet or Internet communications also means that even data accessed from off-site is instantly available, which was certainly not the case when dial-up modems were the norm.
With building and plant performance metrics always at their fingertips, energy and facilities managers and maintenance staff are better placed to identify and react to a variety of potentially costly problems, from leaking water pipes and sticking heating valves to HVAC equipment operating inefficiently or running at inappropriate times. Moreover, since the PC of every building occupant has the potential to provide access to the BEMS, there is an opportunity to engage much of a company's workforce in the system's operation — such as by enabling them to make energy-reducing changes to local temperature setpoints and lighting levels.
Until relatively recently the utility consumption figures collected by a BEMS would normally only be made accessible to a building's energy manager. Today, a growing number of organisations wish to communicate such data to all of their staff to make them more energy conscious. One convenient way of achieving this is through a product such as the Trend EnergyEye, which provides a continually updated picture of a building's gas/electricity usage and carbon emissions displayed on a large monitor in, say, a lobby or reception area or canteen. A traffic-light system shows at a glance whether emissions are on, below or above target.
Though accessing BEMS data has become a quick and easy process, energy and facilities managers may not always have the time to make effective use of it — or it could be that an organisation has no-one who can even carry out such a role. Fortunately, there are various software tools that continually analyse BEMS-monitored variables and automatically report any anomalies.
Among these is a type of monitoring and targeting (M&T) package that constantly compares a building's actual and predicted energy use and, having taken into account factors such as temperature and humidity, generates an exception report if the difference is too great. If sufficient data is available, it is even capable of pinpointing why energy usage is higher than expected. Some problems it can uncover might otherwise be very difficult to detect. For example, its use by a major retailer revealed that a cleaning contractor was unnecessarily filling the floor washing machine with hot rather than cold water.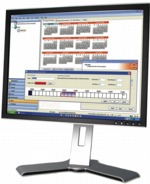 A recently introduced web-based BEMS performance tool also has a role to play in diagnosing the cause of excessive energy use. In addition to automatically checking the functioning of system elements such as control loops, sensors and alarms, it can immediately alert the user to changes to occupation profiles, controls being manually over-ridden and other events that may not be immediately obvious.
It can often prove beneficial to use the performance tool in tandem with an M&T package, the latter to spot over-consumption and the former to explain why it has happened. It might, for instance, show that a control loop was failing to reach its setpoint, which would suggest a fault with the sensor or something else affecting it, the exact reason becoming immediately clear after a visual inspection.
With no BEMS-monitored variable more than a few mouse clicks or keystrokes away and with tools that can analyse the significance of vast swathes of data, it is possible to identify, diagnose and rectify problems within hours or even minutes of them occurring — thus ensuring a long-term reduction in a building's energy consumption and carbon footprint.
Joe Douglas is with Trend Control Systems Ltd.
Related links:
Related articles: