Fujitsu air-conditioning training courses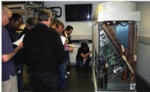 Training courses on the Fujitsu range of air-conditioning products are now available to all contractors. The courses are provided by FG Eurofred and aimed at any size of contractor installing and commissioning Fujitsu systems.
There is a range of courses covering VRF systems (including application, design, installation, commissioning, advanced service and troubleshooting), the J-Series mini VRF and split systems.
The one-day on-demand courses are held at FG Eurofred's fully equipped air-conditioning training and demonstration facility at Elstree in Hertfordshire
Related links:
Related articles: