Lifetime guarantee for Megaflo HE cylinders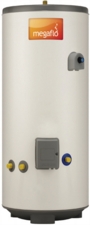 Heatrae Sadia is so confident in the integrity of the internal stainless-steel cylinder of its Megaflo HE water heaters that the company now offers a lifetime guarantee — indicating that it is the only company in the UK to offer this type of guarantee for an unvented cylinder. The lifetime guarantee includes labour. If a leak caused by a manufacturing defect should occur, the product will be replaced free by an engineer from Heatrae Sadia's service division. The guarantee excludes damage caused by scale.
Made from high-grade Duplex stainless steel, Megaflo HE has a high resistance to stress corrosion cracking, fatigue and erosion. It therefore does not require a protective coating or sacrificial anode.
For longer life, each cylinder undergoes comprehensive, state-of-the-art post-weld treatments.
John Cockburn, head of marketing at Heatrae Sadia, says, 'Around 900 000 Megaflo HE hot-water cylinders are installed in the UK, and their trouble-free operation has given us the confidence to upgrade our 25-year guarantee to a lifetime one.'
Related links:
Related articles: