Partners in open systems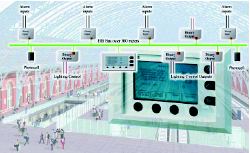 Not only do the communications protocols BACnet and EIB provide the potential for linking controls and sensors from different manufacturers, but thay can also communicate openly with each other. CHRIS GLASOW has the details.In recent years, the commercial building-services industry has attempted to provide customers with interoperable system choices through a variety of integration techniques. While these offerings have shown short-term results, interfaces linking proprietary protocols are not reasonable, long-term solutions.
Practical answer
BACnet, and EIB (KNX), which are industry-consensus standard protocols, provide the first practical answer to interoperability. Only through well documented standards like BACnet and EIB will owners be assured of consistent solutions for today and for the future, with guaranteed backward compatibility. BACnet and EIB are not products. Instead, they provide a set of rules that govern the exchange of information over a network. BACnet is a data communication protocol for building-automation and control networks. It is an American (ANSI) standard and an ISO global standard. Likewise EIB (KNX) is also a CEN TC247 and ISO standard. Both protocols model common building-automation and control functions as collections of information called objects. An important point is that Addendum (d) of the ANSI/ASHRAE Standard 135-2001, BACnet, contains information on how to interconnect BACnet devices with devices that use the EIB/Konnex protocol.
Data transfer
With EIB and BACnet both using an object-oriented approach, data can be seamlessly transferred via a gateway to and from EIB, the field level, and BACnet the building-automation and BMS level. EIBnet has been recently been recognised for the building-services automation level as well as the field level. The proximity of EIBnet to BACnet makes it easy to transfer data from the automation level to the management level. The EIBnet protocol now makes data transfer via Ethernet 10BaseT possible at a speed of 10 megabit/s. Data transfer from the automation level to the management level is made possible by EIBnet's proximity to BACnet. The implications are many, not least that it enables very flexible and cost-effective solutions based on open protocols.
Maximum flexibility
Both BACnet and EIB enable stakeholders and managers maximum flexibility and cost-effectiveness by allowing control products made by different manufacturers to be integrated into a single, uniform system. BACnet is designed to allow HVAC/R, fire, access and security devices to interoperate, while EIB allows lighting, blind and window control and temperature sensing. Through the integration of EIB and BACnet, owners can select the best technologies and services available, with the investment protection of being able to competitively expand current systems, without being 'locked in' or having to replace them if an original supplier loses favour. BACnet also facilitates single workstation control in campus and multi-building environments composed of a variety of different manufacturers' control systems.
Scalable
BACnet is scalable from small to large installations, with the protocol following the market for building-automation systems. Installation is simple. As part of an EIB installation, the bus cable combines devices and systems within a building which previously functioned separately from one another. New functions can be added to this network quite simply, with the bus cable simply looped to the new device. As these cables are low voltage, there is no need for potentially expensive and disruptive encasement. The result is that EIB is easily expandable to encompass additional functionally at a later date. Likewise BACnet is network-medium independent and can work over a variety of commonly available network technologies used in our industry, including Ethernet, ARCNET EIA-232, EIA-485 and the LonTalk data-link layers. Owing to the high level of integration and functionality, there is very limited cable installation, which can results in up to a 60% reduction in cable requirements. In an EIB/BACnet integrated solution, investment return on each sensor and actuator device is highly geared, as each product , such as a movement detector, can not only switch lighting as in conventional installations, but can also set back heating via the building-management system, EIB can provide 'down to the point' data for BACnet and provide huge flexibility in control. An installation, being a distributed system, allows sensors and devices to be mixed and matched to provide any degree of functionality required. The good news for companies looking to improve the 'green' rating of their building by use of EIB is that the EIB system is listed by the Carbon Trust and products are available that are eligible for Enhanced Capital Allowances, allowing the customer to offset a major proportion of costs against tax. With BACnet and EIB both strongly growing through demand for open manufacturer-independent protocols, Andromeda Telematics believes that the EIB/BACnet integrated solution is a powerful strategy, delivering to the client future proofing, flexibility and cost-effective solutions.
Chris Glasow is managing director of Andromeda Telematics Ltd, Orion House, High Street, Addlestone, Surrey KT15 1TU.
Related links:
Related articles: