Keeping track of energy in the office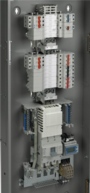 Financial, environmental and even legislative pressures are making it essential for businesses to ensure that energy is used efficiently throughout their operations — and offices are by no means exempt from this requirement. David Pitt of Eaton's electrical sector explains.
The UK has committed itself to reducing greenhouse gas emissions by no less than 80%, compared to 1990, by 2050. This is a challenging commitment, so it is not at all surprising that the Government is putting increasing pressure on businesses to cut energy usage. This pressure takes many forms; just two examples are the CRC Energy Efficiency Scheme for larger businesses and the Climate Change Levy, which is an additional tax on energy.
The Government is well aware, however, that what cannot be measured cannot be managed, and so it has introduced requirements, which are embodied in Part L2 of the Building Regulations, for businesses to monitor and account for their energy usage.
Part L2A of the regulations covers new non-domestic buildings, and applies to new buildings other than dwellings.
Part L2B covers existing buildings other than dwellings. It does not automatically apply retrospectively, but it does come into effect when any 'consequential improvement' (an improvement that requires Building Regulations control approval) is carried out.
The central requirement of Part L2 is that businesses must be able to account for at least 90% of their estimated annual energy consumption for each fuel. Since, for many businesses, the energy used in offices is a large proportion of their overall energy usage, it is very clear that some means of quantifying and apportioning office usage is essential.
This could be seen as yet another Government imposition on businesses, but that is not the whole story. Legislation may be the driver that puts energy monitoring into offices, but it is the businesses themselves that will benefit most. Energy is already expensive, and the future trend in pricing is certain to be upward. Therefore monitoring and reducing the amount of energy used in offices will ultimately bring big financial rewards.
That said, how can effective energy monitoring be achieved?
While indirect methods such as fitting office machines with hours-run meters that are read regularly and consumption calculated are theoretically acceptable, they tend to be time consuming and impractical. Much more satisfactory is energy sub-metering.
Sub-metering involves fitting additional electricity meters at the distribution board to measure the power supplied to individual loads or groups of loads. In an office environment, separate sub-meters could, for example, be provided to measure the energy used by lighting, IT equipment and the HVAC installation.
It used to be that providing comprehensive sub-metering for electrical installations was seen as expensive, but leading electrical suppliers now offer convenient meter packs that can readily be incorporated in new installations and added to existing systems at very modest cost. These packs can be expected to incorporate meters that comply with the European Measuring Instrument Directive and to offer provision for easy interfacing with energy or building management systems (EMSs or BMSs).
The interface facility is particularly important, as there is little point in having comprehensive energy metering unless the information produced is properly collated and analysed. This can be done manually, but a much more practical option is automatic analysis using an energy-management system or building-management system. These systems should be able to generate reports that clearly show not only when and where energy is being used, but also any trends for usage to increase or decrease.
On their own, these reports are very interesting, but they do not actually cut energy usage or carbon emissions — so what is the next step?
The first thing is to look for is whether the reports point to any straightforward ways of saving energy. For example, is energy being used to light the offices when they are unoccupied? Is the power demand for IT equipment out of hours similar to that during the working day — showing, perhaps, that computers are not being switched off when staff go home?
Remedies such as fitting automatic lighting control and instructing staff to turn off their computers are simple and cost effective. Of course, rather more technical measures may sometimes be needed. The energy performance of older HVAC systems, for example, can often be improved dramatically by fitting variable-speed drives, and the fitting of power-factor-correction equipment can also be a useful way of economising.
Overall, the best approach is to seek the support of an experienced supplier that not only offers sub-metering solutions to determine where energy is being used, but also offers an extensive range of solutions to control energy usage. Those who take this path will find their efforts amply repaid; not only will they be helping to save the planet, they will also be cutting their energy bills and, therefore, improving their bottom line.
David Pitt is with Eaton's electrical sector.
Related links:
Related articles: