Power distribution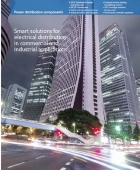 Power-management company Eaton has published a catalogue featuring a comprehensive range of power-distribution solutions that have been specifically developed for electrical sub-distribution applications in commercial and industrial buildings in according with the latest regulations.
The catalogue is aimed at contractors, consultants and electrical engineers. It covers solutions that comply with Part L2 of the Building Regulations, Amendment 3 of the 'Wiring regulations' (BS 7671) and BS EN 61439.
The catalogue comprises 10 chapters and includes all the updates and product changes from the last three years.
Related links:
Related articles: