Keeping it flowing

Geoff Hobbs outlines how one installer used smart thinking to keep hot water running for DeVere hotel guests while replacing a 20-year-old heating system.
Faced with having to shut down a business for even a week or so is not really an option, and this is especially true if you are running a large hotel — even more so perhaps when that business is a member of a nationwide chain. But that's just what the management of one of De Vere's Village Hotels were faced with when they were planning the replacement of the failing 20-year-old hot-water system as part of a major refurbishment at their 116-bedroom site in Warrington. If you run a hotel, no hot water means no guests, so any downtime of hot water supply is disastrous for business.
Initial plans designed to overcome this problem involved a temporary external oil-fired plant to cover the gap in service while stripping out the old boiler room. This solution would involve constructing and then dismantling the provisional system, and linking it with flexible pipe work to provide the temporary supply.
But, by applying some creative thinking, an alternative plan was found that removed the need for an interim supply, and saved the hotel thousands of pounds on the installation — and did not interrupt the hot-water supply for more than an hour or two.
John Barnes, Director of Salford based heating engineers H Barnes & Sons Limited, with almost 50 years' experience working in the hotel sector, went on site and discovered a linen room by the side of the old boiler room on the top floor of the hotel. His solution was to use this room to build a compact hot-water system using Rinnai Infinity continuous-flow gas water heaters with a Rinnai 1000 litre storage tank.
Thus, while the old system continued to supply the hotel with hot water, he could convert the linen room to build and house the new installation. When completed it would then be a simple matter to switch supply from the old to the new with minimal downtime. The old boiler room could then be stripped out and reinstated as the new linen room. This elegant solution earned H Barnes & Co the contract, and saved the Village around £10,000 to £20,000 on the total cost of the project.
Barnes says: "I was pleased to be able to apply my experience gained from working for many years in the hotel business to solve this problem. It's not always the standard solution that provides the best result, a little lateral thinking often comes in extremely useful!"
It was all made possible by fitting a neat, compact and easy to install hot water system from Rinnai. It comprised six Rinnai Infinity 26i state-of-the-art continuous-flow hot-water heaters coupled together and directly supplying a high-capacity insulated storage tank. This provided the Village with an ample supply of hot water, not only to the 116 guest bedrooms, but also to the laundry, kitchen and ancillary facilities at the hotel. The design of the system is such that even if the total contents of the tank were to be used in an period of unusually high peak demand, the Rinnai heaters constantly re-supply the tank with hot water at operating temperature accurate to within 1 K, meaning little or no recovery time is required.
The upgrading of the hot water system at the hotel is part of a recent and extensive £4.5 million transformation, providing the Village Warrington with a new stylish and modern interior, thoughtful extras and superb attention to detail. And now, of course, there are also limitless supplies of hot water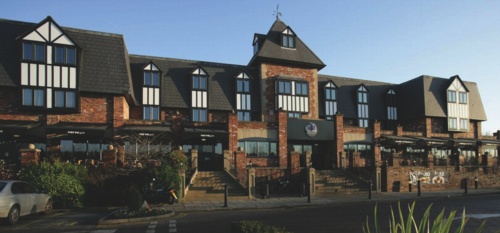 Related links:
Related articles: