The water's lovely
Tony Barnes of Calorex explains the important process of controlling humidity, temperature and fresh air for swimming-pool environments.
A typical leisure pool contains around one million litres of water but, because it is heated to around 30°C, much of this evaporates at the rate of hundreds of litres every hour. Maintaining a comfortable pool environment requires the pool water and air to be held at approximately 27°C and 29°C, respectively.
Heating is normally carried out by heat exchangers linked to boilers using oil or gas as fuel. The resultant water evaporation into the building, containing most of the heat input in the form of latent energy, must be removed to maintain a pleasant pool environment and prevent damage to the pool building.
Installing a dehumidifier prevents the evaporated water from turning into condensation which can cause expensive structural and building fabric damage, and be uncomfortable for occupants.
Dehumidification can also reduce energy costs, which is important as local authorities seek to save money by increasing the energy efficiency of the swimming pools they run. They have already experienced major increases in the cost of electricity, gas and water tariffs, adding tens of millions of pounds to the national community swimming bill. The Calorex HRD heat-pump dehumidifier removes moisture from the air, collects its latent energy and reuses this to assist water and space heating. Heat recovery from the unit is usually sufficient to satisfy all the operational pool water heating requirements.
This heat cycle cuts gas use, significantly reduces carbon emissions from the leisure centre and keeps heating costs to a bare minimum. A controlled quantity of fresh air, which is also passed through heat-recovery coils that can either heat or cool incoming outside air, is added continuously to maintain the pool air quality.
The technology has been applied at Islington's Cally Pool. The pool was originally ventilated through a total-loss system that extracted moist air from the building and replaced it with pre-heated outside air. This process required eight air changes every hour to maintain comfort levels, creating very high space-heating requirements. The Calorex dehumidifier showed significant improvements on performance.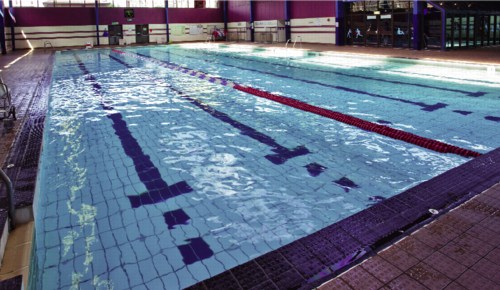 Figures from seven months of operation over last winter (2009/2010) compared to the same period from the previous winter (2008/2009) show that a newly installed Calorex HRD 30 unit, working in conjunction with new boilers, has reduced gas consumption by 47 per cent. and electricity costs by 2 per cent. As a result, the pool's carbon emissions were cut by almost 40 per cent. Cost savings are estimated to be up to £6,000 per month, giving a payback on the investment of around three years.
The Calorex HRD30 system provides a purpose-built package with its own in-built control system, heat exchangers and recirculation fans. A powerful circulation fan is integral to the operation of the HRD system. It ensures that all areas of the pool hall are fed with dehumidified air at the correct temperature.
A highly efficient dehumidification system operated by two independent compressors strips out excessive moisture and reclaims the latent energy before reintroducing it to the pool water and air. During dehumidification, the HRD30, operating at normal pool temperatures, recovers 2 kWh of latent heat energy from every three litres of water that it condenses. Fresh air inlet and stale air exhaust is dealt with by an exhaust fan and motorised dampers.
Exhaust air is drawn out at a rate that is 10 to 15 per cent. higher than fresh air is introduced, to maintain a slight negative pressure in the pool hall. This prevents moisture being driven into the building fabric.
As the country's local authorities find themselves under increasing pressure to demonstrate cost savings, use of dehumidification and heat recovery can help to reduce costs dramatically. The application of this energy-efficient technology can play a major role in keeping these important local facilities operating.
Related links:
Related articles: