Driving the heat-pump market
Daikin is applying pressure to the UK domestic heat-pump market to drive up sales — with the support of the Renewable Heat Incentive and the Government's commitment to build more affordable homes.
Heat pumps for domestic heating is a market that just doesn't seem to want to take off in the UK — despite the best efforts of the manufacturers. According to Pippa Wibberley, director of heating with Daikin UK, the UK market is currently about 12 000 units a year, mainly in areas without a mains gas supply. But with recently Government commitments such as the Renewable Heat Incentive (RHI) and the building of 150 000 new affordable homes over the next four years, she believes that the heat-pump market is set for substantial growth.
There is no shortage of products with the capability to deliver heating and hot water for lower costs and carbon emissions than oil and gas. Daikin's Altherma system for example, was launched in 2006, and the number of installation in Europe is now into six figures — with the 10 000th sold to a UK customer on 14 October this year.
Commenting on the RHI, Pippa Wibberley says, 'The Government has established a major focus on energy reduction as one of the pillars for growth in the UK economy. While clarity is still required on funding and delivery mechanisms, this initial commitment is a positive sign and affirms how vital initiatives such as the RHI are for the future of the low-carbon economy.' The RHI scheme is due to be launched in June 2011, with £860 million of funding for the first year.
She also points out that the commitment to build 150 000 affordable new homes over the next four years represents a 29% increase compared with the number of new home completions by registered social landlords and local authorities over the last five years. Pippa Wibberley also points out that the Government has indicated that it will continue to improve existing housing stock through the Decent Homes Programme. She says, 'Hopefully, that will provide the impetus to upgrade old and inefficient heating systems, especially in off-gas areas, with more sustainable and energy-efficient alternatives such as domestic heat pumps and solar thermal systems, which support hot-water production.'
From an environmental viewpoint the case for heat pumps is strong enough, with a COP of two required to achieve lower CO2 emissions than oil and three to be better than natural gas. Cost is another issue, but that will benefit from the RHI.
If a pent-up demand for renewable energy such as heat pumps and solar is suddenly released, it may stall against the number of installers available. At present, it is reckoned that there are fewer than 500 installers registered under the Microgeneration Certification Scheme for air-to-water heat pumps and also fewer than 500 registered for solar thermal.
While split systems with refrigerant lines running from the outdoor unit to a heat-exchanger indoor require specialist refrigerant skills for their installation, Pippa Wibberley reminds us that monobloc systems, with all the refrigeration circuitry contained in the outdoor unit, can readily be installed by installers of traditional heating systems.
She is a firm believer, however, in the principle that correct application is the key to the success of heat pumps and tells us that Daikin believes in ensuring that its products are only sold to installers that can install them correctly. One of Daikin's routes to market, therefore, is to sell Altherma systems to approved installers.
Daikin's approach to getting domestic heat pumps from fringe to mainstream is to support installers with training opportunities. There are five training centres in the UK with Altherma demonstration systems and offering one- and 2-day courses, supported by three technical colleges. Installers are required to pay for this training, but with the incentive that the cost is fully refundable after the first installation.
This support is part of Daikin's 'Make the connection' marketing campaign, the scope of which includes heating and plumbing installers and homeowners.
To generate leads from homeowners, Daikin's promotional activity includes Google advertisements, press advertising, pavement signs and leaflets through doors.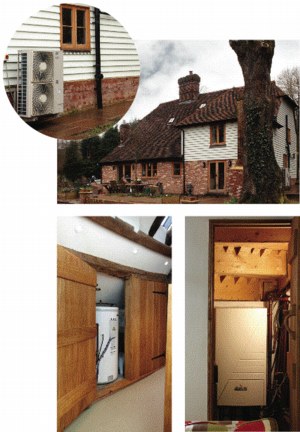 A major part of this campaign is the offer of £400 cash back if a boiler is replaced with an Altherma heat-pump system. This promotion is designed to build on the success of the Government's recent boiler-scrappage scheme, which ran out of funds in just a couple of months. Daikin's cash-back scheme runs until the end of February 2011.
Daikin has an abundance of real installations to its name to provide ample evidence for the capabilities of heat pumps.
One is the restoration of two virtually derelict cottages in the heart of the Kent countryside, which is occupied by Gareth and Emma Jordan and their three young children. They originally thought that they would have to heat their 16th century dream home with an oil-fired central-heating system, as there was no gas supply — until someone suggested using an air-source heat pump.
Gareth Jordan runs an office design-and-build company in the west end of London and was introduced to Daikin's Altherma system by Paul Worth, managing director of air conditioning installer 360 Engineering. It was explained that the Altherma air-to water heat pump could be used with conventional radiators, which were installed by a local plumber. 360 Engineering then added the heat pump to the installation — which has since proved its capabilities through the coldest Winter in Kent for 30 years.
Another project is the refurbishment of 60 properties of South Tyneside in the north east of England, a project that has won an award from National Energy Action. The combination Altherma heat pumps to provide heating and hot water with improved insulation for walls and roofs has considerably reduced tenants' energy costs. The heat pumps are supported by solar-thermal collectors.
These houses were built in the 1960s and heated with gas boiler systems. The refurbished buildings are expected to enjoy a 30% reduction in fuel bills.
A recent development from Daikin makes it possible to replace independent boiler systems in apartment blocks with independent heating systems served by common central heat-pump plant.
The concept provides an upgrade solution for buildings with SE duct systems, to which is it not permitted to connect high-efficiency gas boilers. The duct can be used as a route for refrigerant pipes between the outdoor unit(s) and individual indoor units. The primary circuit uses R410A, and the temperature is further raised by individual R134a systems in each apartment to deliver wet space heating and DHW. One outdoor unit can serve up to 10 apartments.
It is also possible to use heat-pump technology to produce the higher flow temperatures required if existing radiators systems are not being replaced and also to deliver DHW at higher temperatures without supplementary immersion heating. Alternatively, space heating can be supplied at a lower flow temperature, with the supplementary R134a heat pump for DHW.
Is the age of the domestic heat pump about to arrive in the UK? The technology certainly exists. The marketing initiatives are gathering momentum. The off-gas area is a ready market — and then what about the gas-supply area?
Related links:
Related articles: