The role of the energy management centre
Steven Daniels explains how outsourced Energy Management Centres play a key role in helping companies to manage energy consumption and meet their targets for reducing energy consumption.
Energy Management Centres (EMCs) offer a systematic approach to monitoring and reducing energy consumption in different kinds of organisations. The driver for investment in energy management is often commercial. However, with the advent of the CRC Energy Efficiency Scheme (CRC EES), large organisations and property owners — be they public sector, commercial or industrial — have become very serious about energy reduction.
The CRC EES is the UK's mandatory climate-change and energy-saving scheme. It is now central to the UK's strategy for improving energy efficiency and reducing carbon-dioxide emissions. Whilst the scheme has certainly not been without controversy, the impact of the CRC EES has pushed energy management higher up the corporate agenda, forcing companies to radically rethink their energy strategies.
Changes in company behaviour and infrastructure — for example the increase in demand for outsourced energy management centres — have become a natural by-product of the new legislation.
According to the Department of Energy & Climate Change, large public and private sector organisations are responsible for around 10% of the UK's emissions, a statistic which highlights the magnitude of the situation and the need to implement energy strategies at the highest level.
The aim of the CRC EES is to get businesses to cut their carbon emissions through improvements in energy efficiency. As part of the scheme, large public- and private-sector organisations will be required to buy allowances — priced at £12 per tonne of CO2 in the first phase of the scheme — to cover emissions produced from their usage of electricity and heat. Whilst some UK businesses have lambasted the CRC EES as a stealth tax, companies which effectively reduce their consumption will still be able to cut their 'tax' bill.
Energy outputs and performances will also be published in a league table, which means those companies that can demonstrate active carbon management are likely to enjoy an advantage, not only in terms of meeting national targets and reducing energy costs, but also as preferred suppliers within the public and private sector procurement process.
EMCs now play a pivotal role in modern building services. The focus for energy-management companies providing outsourced facilities should, above all, help manage the investment that organisations have already made in their property. For example, a key challenge for many large organisations is their ability to control when lights are on or off and the temperature of their buildings. Linking up to an EMC is a simple way to manage energy outputs; the facilities help to control a company's individual energy performance in a sustainable manner. Similarly, linking up to an EMC can help companies to maximise existing assets without the need for purchasing expensive technology solutions.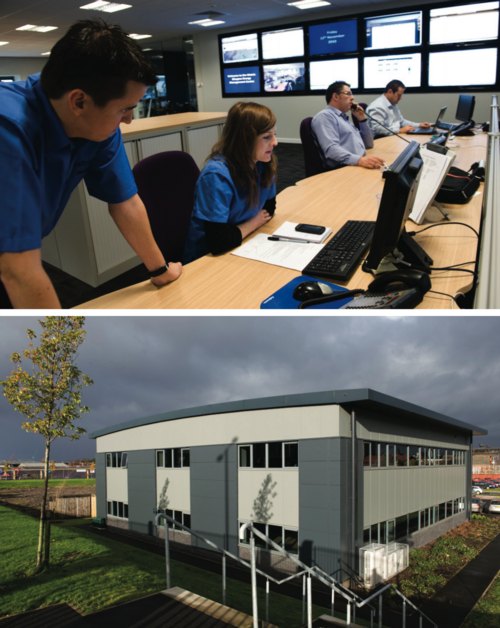 In light of the CRC EES, the demand for EMCs has grown exponentially as organisations look to manage heating, cooling and lighting outputs across their property estates. Every day in the UK, thousands of energy-efficiency schemes are delivered — from new lighting systems to new or upgraded building energy management systems. However, whilst these schemes are a positive move and can help to reduce energy use, the effectiveness is often weakened once the team moves on. For this reason, it is often the EMC that can actually cut outputs effectively and sustainably. Many centres deliver cost and energy savings through remote active energy management (RAEM). Indeed, capital investment in these schemes is often recouped within one year.
RAEM systems monitor a site or plant's performance against a predetermined energy-efficiency profile. If the site or plant deviates from this defined profile, the centre is notified and will immediately view the site or plant remotely to diagnose and correct the problem.
Senior management often do not realise that using energy at peak times can cost nearly three times more than utilising energy at off-peak times. To manage this, energy centres can also control and reduce the energy needed to operate a building during peak times.
Large organisations accept that it is impossible to effectively control the lighting, heating and air-conditioning in every single one of their buildings. However, linking up with an EMC helps companies to determine the optimum levels of energy required over a 24 hour period.
These new centres are now at the heart of UK energy strategy, helping to save organisations millions of pounds a year in energy costs, maintenance and call-out charges.
Stephen Daniels is a director of energy-management company Matrix
Related links:
Related articles: