Pushing the boundaries of SFG20

The development of sector- and function-specific standards has enabled the SFG20 standard maintenance specification for building services to become more widely used by enabling standards to be devised for specific projects. Peter Excell explains.
Legislation and government targets are setting the goalposts for building services. The problem is they keep changing.
Building Regulations are updated every three years, and with the first conviction under the Corporate Manslaughter Act 2007 a precedent has been set. Building managers will need to prove that standards were maintained in the event of health outbreaks, such as Legionnaires' Disease, fire outbreaks and accidents.
Display Energy Certificates (DECs) are public proof of whether energy standards are being achieved. Now, the Government's most ambitious drive for energy-efficient buildings looks set to start building managers thinking yet again, especially with the 'one-building-a-minute' challenge between now and 2050 [as a vital part of meeting the Government's carbon-reduction targets].
However, a building's running costs also need to be kept in check, particularly in the current economic climate. It may seem daunting for a building manager juggling budgets and standards, but skimping on maintenance is a false economy and leaves one culpable to legislation.
One way to ensure adherence to regulations and to keep control of costs is to install a planned and customised programme of maintenance and refurbishment that will keep equipment operating to its best potential. Measuring and monitoring consumption is also crucial. The right maintenance programme will ensure a building is in line with current legislation and future energy targets.
In shaping a customised building maintenance programme, priorities can be put under three headings.
• Legal requirements, which are essential.
• Business-critical systems, which are also essential.
• Recognised best practice.
These are tried and tested, successful methods to ensure compliance with regulations while helping to reduce energy consumption and costs.
Additional aspects that become essential as energy efficiency is brought in line include new assets, such as biomass boilers, solar panels, specialist installations and systems, proactive maintenance tasks such as tours and inspections, management procedures (including local risk assessments and monitoring) and optional inspection and monitoring regimes.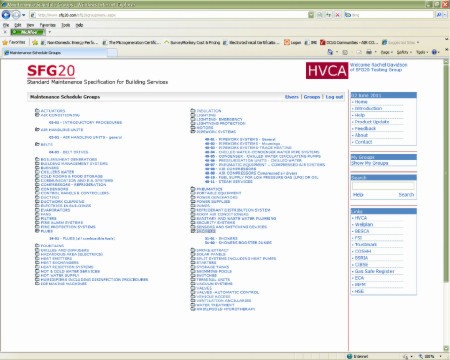 The Ministry of Justice (MoJ), facing the challenge of keeping up-to-date with standards, wanted to know how to budget for a maintenance programme to achieve essential goals while not over or under maintaining the estate. Using the Heating & Ventilating Contractors' Association's (HVCA) generic SFG20 maintenance standards as its starting point, the Ministry of Justice sought help from the HVCA.
The customised maintenance standards had to be legally compliant and fit for function (based on critically profiling its assets). Maintaining compliance and avoiding loss of places were the real drivers for the MoJ, but financial constraints were also an issue. The HVCA's SFG20 standards provided the baseline to help the MoJ establish explicitly what to do to comply with relevant statutory/legal regulations and also not over or under maintain the estate. The result redefined the 'service focused maintenance regime' — and an ongoing licensing agreement with the HVCA meant that the standards would be kept up-to-date.
Customising maintenance standards for the MoJ's custodial estate created the 'sector' maintenance standards for all public-sector prison establishments in England and Wales. This gave the MoJ the basis for setting and defending sustainable maintenance budgets and realising best value for money.
The HVCA's SFG20 is widely regarded as the industry standard for businesses or individuals responsible for maintaining, managing or specifying the maintenance of building services. The licensed web-based service ensures maintenance schedules are always up-to-date, with detailed instructions for all principal types of heating, cooling, ventilation, installation, plant and electrics in buildings.
Behind the HVCA is a technical committee responsible for the ongoing updating and progression of SFG20, keeping it up-to-date from a legal and best-practice perspective and reviewing it every six months. The work with the MoJ highlighted the need for sector specific 'fit-for-function' maintenance standards.
As a result, a new SFG20 web tool is being developed to transform how clients use the maintenance standards. The new tool enables anyone to create and customise maintenance standards applicable to their specific project and/or estate and facilities functional requirements to establish precise asset-by-asset service-level specifications and to model the regime to their business needs, strategies and contractual obligations and budgets.
SFG20 will be more interactive and user friendly, and enable users to select and customise the relevant maintenance standards. The HVCA is developing the web service for customising maintenance regimes using a colour-coding structure — red for legal compliance, amber for business or service critical, and green for optional best practice for non-critical assets.
However, as SFG20 is embedded in many contracts and in various computerised maintenance-management systems (CMMS), the industry can rest assured that the core SFG20 product remains intact. Strict governance and controls for how to use and apply SFG20 customisable maintenance standards are in place. Optional sector-specific additional maintenance task sets (non-core SFG20 schedules), such as for hospital particular assets relevant to healthcare estates, could become future add-ons.
Another new product will be the SFG30 mothball maintenance standard, which explains how to mothball a building so that building maintenance managers can safely shut a building down should the facility become unoccupied or be vacated awaiting a future refurbishment or disposal. The HVCA publications and technical standards team plan to make the SFG30 available for purchase, along with the new customisable web services, by the end of the year.
Peter Excell is Associate Director of Rollright Facilities Ltd, immediate past chairman of the HVCA's Services & Facilities Group, and current chairman of the SFG20 technical committee.
Related links:
Related articles: