Shaping the future of control applications
Phil Barnett explores the reasons why typical building-management systems frequently fail to deliver their intended benefits and looks at the opportunities presented by web-browser-based solutions.
Building-management systems (BMS) promise to deliver major improvements in fuel consumption for the energy-conscious building operator. In these times of soaring gas and electricity prices, energy performance certificates and carbon-emission regulations, BMS specification should, therefore, represent a no-brainer decision.
After all, they combine energy-saving control tech­niques such as optimum start, weather compensation etc. with communi­cation and information systems that allow active management of the building services. Through this active management they promise to bring substantial energy savings, and also reductions in cost and carbon emissions.
Regrettably, the reality is somewhat different. In many commercial buildings, BMS technology is too complex for the building end-user to understand and maintain. The result is that many BMSs are not fulfilling their potential. In fact, so significant is this problem that it is not uncommon for HVAC plant to be left to run permanently, so destroying a building's energy efficiency and carbon-cutting credentials.
The control strategy behind typical BMS design and operation is at the root of the problem. Energy-efficient control strategies such as, optimum start, close control of temperatures, plant sequencing etc. are typically available with all systems. Frequently, however, the specification does not adequately describe the desired applications. System integrators are often under pressure on contracts owing to late changes in system requirements and/or delays in the building programme, leading to a drastic truncation of the timescales normally allocated to commissioning control systems. The result of such pressurised circumstances is that BMS often operates as commissioned, and not necessarily as originally intended.
This situation also leads to inconsistency and reliability problems, since the same plant will not necessarily be programmed to control in the same way between different installations, the system documentation may be incomplete and those responsible for operating the buildings often receive inadequate training. This is rarely ever the complete fault of any one party, but is rather the compound result of the way in which systems are specified, de­signed and delivered.
In the new economic and environmental cli­mate of the 21st century, it is imperative that we take a different approach to control applications which will realise the benefits they can truly offer building end-users. At the same time, such an approach can yield substantial gains in engineering productivity. And, in seeking to create this smoother, more efficient approach to control-system engineering, optimum consistency and accuracy of set-up are also assured.
The answer is in web-browser based, software solutions, like Tridium's Vykon HVAC, which improve productivity, reliability and efficiency.
At its core, this type of approach works by incorporating an easy-to-use library of standard, proven HVAC applications. An innovative wizard-style interface shields the HVAC design and commissioning engineer from the complexities of much of the detailed configuration setup, thus reducing the risk of data-entry errors. Programming of control strategies, alarms, histories, graphics and navigation trees are all configured automatically in the software's HVAC applications.
This approach enables the rapid creation of systems that will work first time, eliminating the time-consuming and costly need for data to be entered and re-entered and cutting the likelihood of re-works and callbacks.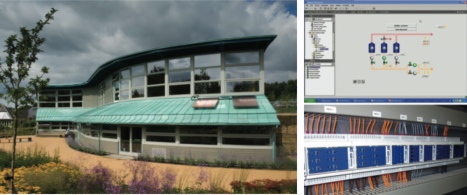 The use of standardised applications, strategies and graphical views offers numerous other advantages. One of the main benefits of approaches such as Vykon HVAC compared to previous attempts to introduce automated engineering is its versatility. For example, if a project has specification requirements that do not fit within the scope of a standard engineered solution, then it is possible to use the system's graphical configuration capability to insert additional features. This ensures that benefits can be delivered in a much broader range of applications than with other approaches.
Further, each installation is different in the option choices and settings — although each is derived from a standard application source. This offers versatility but also instant familiarity to the installer engineering the system and the energy manager operating it.
Without the need to learn different site strategies, multiple sites can be managed confidently and knowledgably. As a result, much less training is required, which reduces the dependency on specialist engineers and the need to rely on just one source of support for maintenance or upgrade.
Instead, remote system maintenance and adjustment can be carried out within the Tridium Jace unit from a web-browser interface. The ability to manage the system via the Internet means it can be achieved anytime and anywhere, without specialist software, making it fast and cost effective.
Vykon HVAC is powered by the NiagaraAX framework and uses proven Vykon Jace station and I/O hardware.
Automating controls engineering in this way makes fundamentally good business sense — from those who design, program and implement the control system to those who maintain it, those who use and manage it, and, ultimately, those who pay the utility bills. The key benefits of improved productivity, reliability and efficiency will ensure a building's control system will operate as it was designed to — not just in the initial set-up but for the lifetime of an installation. The result is a fresh and accessible approach which sets the new benchmark for engineering, maintaining and operating HVAC control systems.
Phil Barnett is sales manager with Tridium Europe.
Related links:
Related articles: