Voltage optimisation
How informed are you on voltage optimisation and how to benefit from it? Jim McIlfatrick has the answers.
Today, companies are increasingly coming under pressure to demonstrate their green credentials to both customers and the Government. And with the introduction of the CRC Energy Efficiency Scheme, this pressure has become all the more pronounced. In the current economic climate, however, organisations need to look towards environmentally friendly solutions that also deliver a real and concrete return on investment.
As a result, voltage optimisation has become increasingly popular as a simple and practical way to address both financial and environmental concerns. Delivering energy savings of up to 25%, the technology reduces carbon footprint whilst cutting electricity bills and prolonging equipment life.
But with the marketplace saturated with 'green' energy-management products touting their emissions-saving potential, those thinking of investing in a voltage optimisation solution want to know what they are signing up for.
So, what is voltage optimisation and how does it work?
Although the National Grid typically supplies electricity at more than 240 V, most electrical equipment is designed to accept a range of voltages, with 240 V near the upper end of that range. For example, a 230 V linear appliance operating at 240 V will consume about 9% more energy than necessary.
Voltage optimisation helps mitigate this excess, adjusting the output voltage from the mains so that equipment receives only the necessary power to operate. Voltage optimisation reduces the input mains voltage, balances the phase voltage and regulates the output so that equipment does not consume more power than necessary.
By reducing supply voltage to a controlled, minimum level, voltage optimisation allows equipment to operate at optimum efficiency. This results in lower energy bills, longer-lasting equipment and reduced carbon footprint.
But does it really deliver a return on investment?
The answer is yes, and rapidly. Take for example, UK vegetable-box scheme, Riverford Organic Vegetables. After observing rising electricity costs with trepidation, Riverford wanted a money-saving solution that would fit in with their environmentally friendly ethos.
Following the installation of voltage-optimisation technology, initial site surveys have indicated a reduction in energy consumption of 11%, saving around £8000 annually.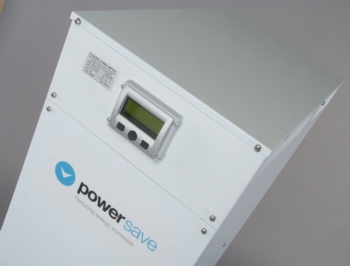 As well as saving money, such an energy-management strategy is an easy step change for organisations with Carbon Reduction Commitments (CRC) as it is so simple to measure.
Qualifying organisations for the CRC have to monitor energy consumption and purchase allowances from the Government for each tonne of carbon dioxide they anticipate emitting in the upcoming year. As every kilowatt hour of electricity is equivalent to 0.54 kg of CO2, using voltage optimisation means emissions can be effortlessly calculated to assess carbon-credit requirements.
However, there are considerations to keep in mind before investing. Those in the building-services industry should be aware that there is more than one type of equipment that bills itself as 'voltage-optimisation' technology. In most cases this is a misnomer. Most products on the market are simply voltage-reduction devices — essentially fixed-ratio transformers that reduce the supply voltage by a fixed percentage. These devices can achieve useful savings if the site's voltage is stable and the phases are always balanced, but for the vast majority of sites this is not the case, and equipment often ends up receiving too much or too little power.
Most sites require true, dynamic voltage optimisation to maximise energy savings and carbon reduction. This breed of equipment has a so-called 'regulator' or 'stabiliser' function that continuously and automatically adjusts the amount by which the voltage is reduced.
Regulator technology facilitates a controlled environment similar to that achieved with air conditioning or a compressed-air system. It ensures that electrical equipment never receives more or less than the required minimum voltage for correct operation — important during the power dips and surges that can occur regularly. It also constantly balances the three output voltages, providing better operation of 3-phase loads. With this technology, savings are greater than with a simple fixed-ratio transformer, and electrical equipment lifetimes are maximised. As a result, equipment operates as efficiently as possible at all times, and running costs and carbon emissions are minimised.
Once you have ensured that the equipment you are looking at provides the right kind of true, dynamic voltage optimisation, the next step is setting aside the funds to invest in the technology.
However, despite knowing the long-term financial and environmental benefits of voltage optimisation, many companies put off purchasing. This is often due to short-term cash flow restrictions.
A number of finance solutions are available to businesses seeking to become more environmentally sound. For example, The Carbon Trust has recently introduced a new Energy Efficiency Financing Scheme. Through this, companies seeking to reduce their energy use with voltage optimisation can take out leases, fixed-rate loans and other financial options. Repayments will usually be made to match or exceed a customer's anticipated energy savings and can be arranged over terms from one to seven years, or for even longer periods in selected cases.
Such finance, along with the rate on return achieved through the technology itself, means energy efficiency can be easy for companies which want to be green but are nervous about putting down the capital.
Jim McIlfatrick is managing director of Claude Lyons
Related links:
Related articles: