Radiating comfort
Radiant-heating systems using water as the heat-transfer medium make efficient use of energy and space in building. Malcolm Stamper takes up the story.
The combination of changes to the Building Regulations such as Part L in England and Wales and rising energy prices have increased the demand for energy-efficient heating products. Additionally the increasing importance of environmental assessment methods, such as BREEAM, LEED and Ska, as well as EPCs and DECs, is having an effect.
Adding these requirements for 'green' buildings to the demand for increased occupant comfort sees the use of radiant heating, which offers water-based, energy-efficient, space-heating solutions, coming to the fore as an alternative to traditional wall-mounted radiators and air-conditioning systems.
These systems use water as the heat-transfer medium and take up less space and energy than all-air systems. Radiant heating increases the temperature of surfaces within rooms so air temperatures can be lower without compromising occupier comfort. Realistically, ambient air temperatures of 2 to 3 K less than traditional 4-pipe fan-coil units are possible, delivering considerable energy reductions.
Unlike other heating methods, large volumes of air in a room do not have to be heated before room occupants feel the heating benefit. The heat source can be localised to the occupied area rather than heating an entire building. As a result of the reduced running and heat-up times, considerable energy savings can also be made.
Lower water volumes and low product pressure drops equate to more efficient systems, when compared to traditional radiator systems or 4-pipe fan-coil units. This means that less energy is used to heat a smaller volume of water, and low unit pressure drops reduce the pump pressure required to circulate hot water.
Radiant ceiling panels are easy to clean. They have flat surfaces and no moving parts, resulting in low service and maintenance requirements and, consequently, low whole-life-cycle costs.
Specifying ceiling-mounted radiant heating frees up valuable wall and floor space. Removing heat emitters from walls will increase the flexibility of the space. Furniture can be rearranged more easily, and accidental damage to the heat emitters is avoided.
Maximising the way the space is used and freeing up previously unusable areas of a room can have a significant impact on the effectiveness and efficiency of the building design. In a commercial environment, freeing up floor space, particularly in a refurbishment project, will increase the net lettable area and rental returns.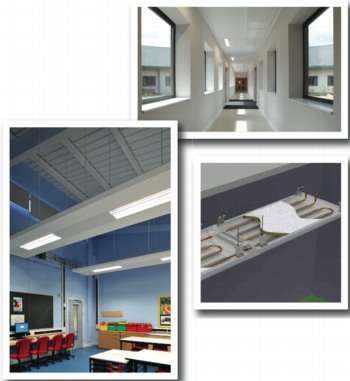 Radiant-heating anti-ligature panels have been developed to offer healthcare environments a solution that frees up floor and wall space, leading to increased space flexibility. This design allows for integration within a T-grid ceiling and independent suspension as an anti-ligature panel. As well as reducing patients' opportunities for self-harm, the use of flat ceiling-mounted radiant heating helps to make wards easier to clean and reduce the cross-infection risks associated with traditional wall-mounted units.
Other services can be combined with radiant heating. HCP radiant-heating service rafts for example, incorporate a radiant-heat emitter with luminaires, acoustic treatment and other building services such as PIR sensors. They are ideal for naturally ventilated spaces, such as educational buildings, and leave the thermal mass of soffits exposed for storing heat and coolth.
Integrated service panels also combine a radiant-heat source with M&E services such as luminaires, pulse switches and ventilation points. Access hatches are often incorporated to provide easy access to the ceiling void, limiting damage to the ceiling during construction and maintenance.
One of the key roles of building-service designers is to ensure a comfortable internal thermal environment. Insufficient or excessive heating can lead to occupant discomfort and reduced productivity. Specifying the correct heating system will play a key role in ensuring high levels of occupant comfort. The specification will depend on a number of factors — including temperature, air movement and occupant activity. The nature of the space will also play an important role; consider a reception area with external doors versus a healthcare environment with patients spending a long time in one position.
Such radiant-heating systems require minimal maintenance, reducing ongoing upkeep costs. A reduction in system downtime can be particularly important in environments which are open to the public for long periods of time, possibly seven days a week, such as hospital wards, transport hubs and retail environments. Over the lifecycle of the system, a reduction in ongoing maintenance requirements combined with the expenses associated with system downtime will lead to a reduction in whole-life-cycle costs.
Malcolm Stamper is with HCP, a division of SAS International.
Videos detailing the range of radiant-heating solutions are available at www.hcp-sasint.co.uk
Related links:
Related articles: