Clyde upgrades boiler capabilities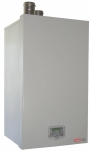 Clyde Energy Solutions has upgraded its CG range of wall-hung condensing boilers with a new electronic controller. They are now easier to integrate and control via their built-in system or via an external BMS. Higher outputs can now be achieved, with the ability to cascade up to 12 boilers, giving a total output of 2160 kW.
The new control system enables boiler performance to be altered at the boiler itself and gives greater access to parameters. In addition, 0 to 10 V BMS control can be selected on the basis of proportional (power) control as well as temperature setpoint control, making for easier integration with external control systems.
On the standard boiler control, external safety interlocks can be connected directly to the boiler rather than the external control system, to ensure safety at all times.
CG boilers ore on the Energy Technology List, so they qualify for Enhanced Capital Allowances.
Related links:
Related articles: