Thermal Technology maintains environment in leisure-centre flume tower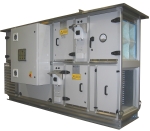 Thermal Technology has supplied a special swimming-pool air-handling unit from its SpaVent range to the Beacon Leisure Centre in Burntlisland, Fife. The unit was selected and sized to serve the flume tower, which is over 19 m high. The unit is at ground level, and a supply air duct delivers warm air 16 m up the tower. Extract air is taken away at a height of about 19 m.
The heat recuperator has an efficiency of 70% and raises the temperature of the supply air by 24.4 K. Face and bypass dampers and a recirculation damper were fitted to provide maximum flexibility.
Full anti-corrosion finishes were provided on the unit, including plastic-coated panels inside and outside, epoxy-coated aluminium-plate recuperator with stainless-steel eliminators, stainless-steel drain pan and marine-grade aluminium room. This leisure centre is next to the links on the seafront.
The unit was fully wired with its own control panel and sensors. The panel was fitted with a Trend IQ3Xcite outstation so it can be interrogated from the BMS.
Related links:
Related articles: