Dimplex PV stimulates work, rest and play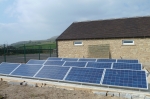 A Yorkshire community that uses Dimplex solar PV panels to generate low-carbon electricity and access the Feed-in Tariffs has featured in a television advertisement for Mars. Fund raising by the villagers of Carperby in Wensleydale included sponsorship from the Mars community programme.
The new pavilion replaces a very basic wooden hut used for changing by home and away football teams and includes 15 polycrystalline solar PV panels with an output of 3.4 kW. Revolution Power advised that the panels should be installed as a freestanding array on a concrete slab behind the building so their pitch and alignment could be optimised.
Severe weather last Winter caused the pouring of the concrete to be postponed. However, Mars wanted to feature the installation in at television advertisement, and filming had to happen on set days. Despite the weather, filming went ahead, and viewers got to enjoy the snowball fights that broke out during the build.
Funding for the £90 000 cost of the project was secured, among other sources, the Big Lottery Fund, the Yorkshire Dales National Park Authority, the Yorkshire Dales Millennium Trust and Mars.
Related links:
Related articles: