Retrofitting in small plant rooms
The replacement commercial boiler sector offers big market opportunities but is not always as simple as you might first think. Peter Gammon describes the potential difficulties and looks at how old systems and small spaces need not always be a problem.
A quick statistic for you — there are over two million non-residential energy-guzzling buildings in the UK that contribute 17% of the UK's emissions. I don't want to bang on too much about Government targets to reduce emissions, but it's a simple fact that improving energy efficiency in our existing building stock has become a hot topic.
Many of the existing commercial buildings in question will use floor-standing gas boilers for their heating and hot-water services, so it's likely the demand for replacement boilers over the next few years will be fairly high. However, many properties don't have generous plant rooms. Instead the boilers are often located in cramped rooms not designed for purpose, giving system designers a major headache when it comes to replacing the boiler plant.
Let's consider a typical scenario that system designers regularly encounter.
A listed building requires the complete heating and hot-water system to be replaced, but the current boilers are 30-year-old standard-type appliances, butted up next to one another. Furthermore, with small footprints, they have been installed in what can only be described as a glorified cleaning cupboard!
To say this is a little inconvenient would be an understatement, but such situations are becoming more and more common, so having the right solution is critical to an effective and energy-efficient retrofit.
However, there are often a couple of hurdles to overcome first.
The first is the Δt system design conditions (i.e. the boiler flow/return temperatures).
Condensing boilers are typically designed to operate with a Δt of 20 K, whereas the standard type commonly installed in the UK have traditionally operated at an 11 K Δt with flow and return temperatures of 82/71°C.
In new builds, using condensing boilers poses very few problems, but when it comes to retrofitting them into a system based on traditional design practices, there still appears to be some uncertainty in the industry. And that's because it's very easy to innocently overlook differences between the existing system and the requirements of the replacement boiler. Taking these factors into account at the planning stage can help eliminate potential problems.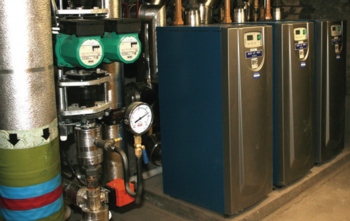 One option available to system designers is to use a low-loss header. This provides the 'convertor element' and allows traditional load circuit design conditions to be accommodated. The low-loss header is employed as the interface between the boilers and the system, but it can also be used as a blending device.
Another common issue encountered when retrofitting boilers in older buildings is the footprint of the older original units compared to their condensing boiler counterparts. Although the original boilers were usually inefficient and on their last legs, they provided the required system output from a small footprint. However, when it comes to replacing them with modern condensing versions, it can be difficult to fulfil the output from the same space. Generally, condensing boilers not only require a larger floor area, but in many cases they also need side access with added clearance for maintenance purposes. In some tight spaces, such as a listed building's plant room, this simply isn't possible.
To overcome these potential problems, boiler manufacturers have heavily invested in designing appliances that still produce the desired higher outputs but are more suited to tighter spaces and don't need side clearance.
To use MHS Boilers as an example, the ADI-NOx boiler range has been specifically designed to solve the difficulties of limited space. With the help of a clever heat-exchanger design, the ADI-NOx range can provide outputs of up to 905 kW whilst occupying a floor area of just 1.2 m2 — perfect for that glorified cleaning cupboard! The design also enables appliances to be butted close together to utilise floor space. These boilers can also operate directly with a Δt of 10 to 15 K, as well as producing exceptionally low emissions.
Replacing an old appliance with a high-performance high-efficiency version is a real win-win situation. Not only is it sensible engineering, it also removes the headache of fulfilling the demand expected from the system output in a confined space.
But what's most important to remember is that in just over 35 years, emissions from commercial buildings will have to be dramatically reduced, and one of the easiest ways to achieve this goal is by replacing aging inefficient boiler plant. Using modern, high-efficiency and low-emission products will inevitably go some way to hitting those tough targets ahead of us all.
Peter Gammon is technical manager with MHS Boilers.
Related links:
Related articles: