Buteline clamps down on costs of installing pipes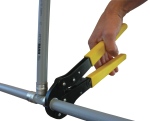 Buteline is offering starter packs costing £135 for its press-fit plastic plumbing system. Pipes are pushed into fittings and secured in position by clamping to achieve a secure joint. The system eliminates O-rings and other moving parts. It can also be painted with water-based paints. The flexibility of Buteline pipes reduces the number of fittings by up to 20%.
The system will be on show at PHEX from 24 to 25 April at Wembley, and UK general manager Gary Fisher hints that there may be a special offer on the starter pack at this event.
Related links:
Related articles: