Elta Fans alliance with Ziehl-Abegg meets energy legislation head-on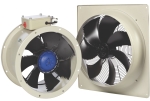 Elta Fans has set up a strategic alliance with Ziehl-Abegg to use its motors and fan impellers as part of Elta's commitment to meet energy and climate-change legislation being introduced throughout Europe. The first batch of products to be powered by motors and impellers from Ziehl-Abegg is the first on the UK HVAC market sector to use the Ziehl FE2 Owlet impeller. It is the Raptor range, available as a plate fan, cased axial fan or plate-mounted axial fan (two units are illustrated).
The first tier of the 'Energy related Products Directive' for fan efficiency becomes mandatory on 1 January 2013, with more onerous requirements to follow in January 2015. Most products in new ranges being introduced by Elta in 2012 with Ziehl-Abegg motors and impellers, will comply with the requirements. Three more phases of products will be introduced by January 2013.
David Ball, vice chairman of Elta Group, comments, 'This new legislation has provided focus for Elta as a business, and we will be striving to ensure that our products meet the requirements well in advance of the new legislation being enforce. By combining our own engineering expertise and experience with that of Ziehl-Abegg, we are creating a strong partnership culminating in a range of products powered by Ziehl-Abegg and designed by Elta.
'This partnership goes much deeper than the legislation, with the owners of Elta Fans working with Ziehl-Abegg previously for more than 25 years with Roof Units prior to its sale.
'It is important that our customers can future-proof their HVAC installations now, hence setting up this alliance some time ago rather than waiting until the legislation is right on top of us in 2012.'
The FE2 Owlet impeller used has a completely new blade geometry that excels in terms of low noise emission, reliability and high efficiency. To reduce noise, the blade has serrations on the trailing edge of the wing, like the owl, which muffles the sound of the owl's wing beats. Winglets on each blade improved efficiency and performance, a feature used on aircraft to smooth airflow near the wing tip to reduce the lift-induced drag caused by wing-tip vortices.
Centrifugal fans incorporated into Elta products include the Vpro backward-curved impeller with 3-dimensional profiled blade and optimised blade geometry to achieve high efficiency and low noise levels.
A number of re-engineered Elta products to be launched include the Hideaway, Quietflow, Singleflow, Twinflow, Skyflow and QUBe fans — all of which are powered by Ziehl-Abegg motors and impellers.
Related links:
Related articles: