HygroMatik's new web site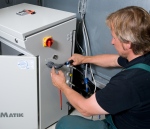 HydroMatik has launched a new and improved web site detailing its 40 years of international experience in humidification. The site offers a comprehensive insight into each product within the precise speciality area for the HVAC and spa sectors. Each section provides detailed explanations for the product ranges and precise application areas.
For example, the HVAC section describes the relevant specifications for offices and public facilities, production and research and storage.
The spa section defines relevant applications for steam generators, including the steam bath and Turkish hammam.
Various diagrams are available, including a psychrometric diagram and nomogram for absorption distance.
Related links:
Related articles: