Portable cylinders provide high brazing and welding temperatures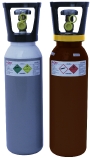 A-Gas has introduced a portable range of high-temperature welding gases for the air-conditioning and refrigeration trade. The Braze-A-Gas range provides portable oxygen and acetylene cylinders and flame torches that can provide a temperature of 3500°C, which is significantly hotter than propane, propylene and MAPP gases.
Braze-A-Gas can be used with a wide range of metals, including copper and steel. The flame delivers good localised heating with a minimum of wasted heat.
Oxygen and acetylene cylinders are available through branches of Climate Center in sizes of 5 and 10 l. They are compatible with most standard regulators and trolleys.
Related links:
Related articles: