Better together — boiler controls and a BMS

The most efficient operation of boilers can be achieved by combining the features of their own controls with those of a BMS. Christian Engelke of Viessmann explains why the benefits are often going unnoticed.
Building-management systems (BMS) are required in all commercial installations to act as a command centre for everything from a building's lighting to ventilation, hot water, heating and alarm system. But BMS controls do not need to be used exclusively.
Manufacturers' heating controls offer a multitude of additional benefits compared to the functionality provided by a BMS alone. Moreover, when used alongside BMS, they make the heating and hot-water elements of Building Regulations much more likely to be met, and they can deliver greater efficiency and cost effectiveness for the end-user. However, owing to deep-set industry habits of using one control system alone, the benefits of combined control systems are passing many construction and facilities managers by.
Many commercial boilers in the UK are designed with building-management systems in mind, resulting in very simple controls — often providing only with the most basic of functionality such as constant temperature and switching on and off.
Conversely, some modern boilers offer the ability to integrate weather compensation, renewable-heating technologies and to control multiple heating zones. Without using the manufacturers' own controls, or using them in combination with the BMS, the boiler's performance is significantly limited. Besides losing various operating functions, relying on a BMS alone means customers are paying more than is necessary for their energy. Why?
It is possible to get the benefits of weather-compensation technology with a BMS alone, but it is a costly and time-consuming task and not only due to the complexity of programming the BMS. Most BMS controls set the boiler to run on a constantly high temperature, but as weather compensation adjusts flow temperature to reduce unnecessary energy consumption, mixers need to be employed.
For example, a standard condensing boiler without weather compensation connected to a BMS with system weather compensation is always set to an 80°C flow temperature, thus reducing boiler efficiency. With a Viessmann weather-compensated controller, the average boiler temperature is below 50°C which means the boiler operates much more efficiently because it is in condensing mode.
Under BMS control, a condensing boiler is operating outside the parameters for which it is designed, causing a loss in efficiency of 10%.
A major cost-saving benefit of using BMS and manufacturers' controls together occurs when you have multiple and cascaded boiler installations. Manufacturers' controls make it possible to stretch the heating system across multiple units so wear and tear is equally spread. By making their operation more efficient, the controls increase the longevity of boilers' use, thus minimising the cost of repair and replacement.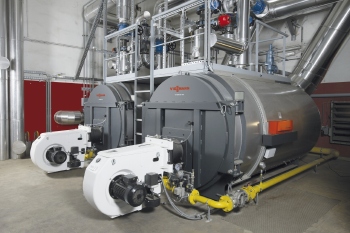 Manufacturers' controls can offer levels of equipment protection which BMS controls cannot. An example is the need for back-end protection of non-condensing boilers. To prevent colder water re-entering the boiler before its temperature has been raised sufficiently to prevent condensate formation on the heat exchanger, which can damage the unit and lower its efficiency, manufacturers' controls manage secondary elements such as shunt pumps or valves to ensure that return temperature doesn't drop below 60°C. BMS controls do not control this as they only have an on/off function.
As well as offering additional benefits over BMS systems, manufacturers' controls can also help meet Building Regulations.
Measuring the onset of faults and metering is much easier with sophisticated controls. This is crucial, for example, if end-users are to have the confidence that the seasonal efficiency of natural gas boilers remains at least 84%, as stated in the regulations. Even when the measure drops below this level, it is still possible to meet regulations by gaining efficiency points; one can earn a point just for monitoring and setting targets, and weather compensation-facilitated systems also allow for a further 1.5 points. Where these features can be added to BMS controls, the cost of doing so far exceeds the cost of the manufacturers' controls.
By dominating the market for so long, BMS controls have become the go-to choice when specifying the control of heating and hot-water systems in commercial settings. Many installers and specifiers are also likely to be apprehensive to enter into a new technology which because of the flexibility it offers, is likely to be perceived as being more complex.
Builders, specifiers and planners still want BMS controls, The controls of heating manufacturers can only influence the heating and hot-water elements of course — and we agree they have their role. However, using manufacturers' controls, which can be specified with a new boiler or purchased as a retrofit to an existing installation, can optimise the BMS controls and save money at the same time. Some customers tell us it could save at least twice as much. It's a simple addition to make.
Christian Engelke is technical director with Viessmann.
Related links:
Related articles: