AET underfloor air conditioning offered for DX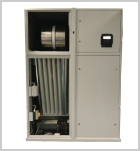 Advanced Ergonomic Technologies (AET) has developed a direct-expansion version of its Flexible Space System for underfloor air conditioning. With this system, the whole plenum under a raised access floor becomes the 'duct', with each floor of the building divided into a number of zones to suit operating requirements.
There are R410A and R407C versions, which can be linked to all major manufacturers' 2- and 3-pipe heat-pump and heat-recovery systems to supply each zone with chilled or warmed air. The supply air is drawn up from the plenum and into the occupied space by discreet, energy-efficient and locally controlled fantile units which are recessed into the floor.
The CAM-DX range can serve areas up to 300 m2 with variable air temperature and volume. A minimum supply-air temperature can be set to prevent condensation in the floor void.
Managing director Glan Blake Thomas says, 'Recent project results have shown that with the addition of our new 10 to 50 kW DX CAM units, high efficiency ratings are easily achievable for Part L2A refurbished buildings. The units have already been installed in a number of applications — including Film House in Wardour Street and Shorelines, Birkenhead railway building.'
Related links:
Related articles: