Fuelling the future

Jeff House of Baxi Commercial Division considers the momentum being gained by biomass solid fuels in the drive to apply renewable energy solutions.
Biomass is an important renewable fuel source that is in the UK to stay. This is borne out by the high profile given to biomass technology in Government long-term strategies designed to achieve a low-carbon economy. The fuel derived from the biological material that sources biomass energy can be solid, gas or liquid, with solid fuel currently being by far the most popular, typically in the form of wood pellets or wood chips.
The latent and naturally occurring energy in other renewable sources such as wind, tide and solar thermal is by nature unpredictable and variable. In the case of solid-fuel biomass, the energy contained in biological material is transformed into a tangible fuel, providing a predictable, dependable fuel source. This makes the calculation of the contribution of 'renewable' heat to annual building demand far simpler, as the calorific value of the fuel source and the running hours for the plant are consistent.
The reliability and continuity provided by stored fuel gives control that can have practical importance. For example, in a commercial application, the performance of a biomass boiler that forms part of a heating system can be maximised by sizing it to sustain the building base heating load. This fuel independence ensures that the efficiency of a biomass solution can be consistently maximised, enabling the design and application of tailored solutions. This would include the integration of all heating system elements into a containerised external plant room at a location where it may be impractical to incorporate those elements into an internal plant room.
An important component of Government initiatives designed to encourage the application of sustainable energy sources is the non-domestic Renewable Heat Incentive (RHI). In February of this year the DECC re-affirmed the need to secure investment in biomass heat at all scales, with the important caveat that this delivers real reductions in greenhouse-gas emissions.
Reflecting this concern, non-domestic RHI will require that biomass used for heat must achieve a lifecycle greenhouse gas (GHG) saving of 60% against an EU fossil-fuel heat average. In addition to sustainability standards, air-quality values will limit particulate and NOx emissions. The lifecycle assessment will take into account cultivation, processing, transport and the conversion efficiency of the boiler, subjecting biomass fuel to standards overseen by Ofgem.
Helpfully, the owners and operators of smaller biomass boilers of less than 1 MW(th) capacity will not be required to prepare any sustainability compliance reports, as they will be able to purchase biomass fuel from an approved supplier. The necessary list of eligible suppliers will only be open to those that supply biomass fuel that meets the GHG emissions targets and associated EU land criteria. However, the Government is keen to support the use of locally produced biomass fuel, and small biomass heat installations will be allowed to use woody material grown on their own estate, provided that the installation is registered with the regulatory body as a self-supplier, with evidence of the estate's capacity to supply woody biomass.
Biomass technology will become an increasingly prominent renewable-energy solution, independently applied by a rapidly developing number of individual energy users. Perhaps not surprisingly, regulations have been introduced designed to give confidence and peace of mind to both energy policy makers and energy users alike.
The sustainability standards already mentioned are representative, setting minimum lifecycle emissions levels. Of equal importance is the clarification of fuel quality, necessary to protect the interests of energy users.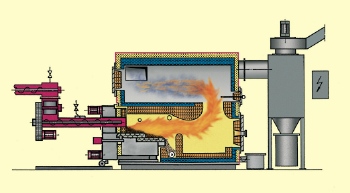 In the case of solid biomass fuels, minimum operating efficiency is required, determined by moisture content, ensuring complete combustion and avoiding damage to equipment components.
The delivery and storage of biomass solid fuels is not overlooked, as they are processed from biological matter and are not in a 'steady state'. Consequently, robust ventilation and supervision measures are prescribed to deal with the control of decomposition and dust in enclosed storage areas. Taken together, these measures give across-the-board reassurance, particularly at the micro-generation level, which will cover the great majority of biomass installations.
At the moment still a work in progress, the proposed changes to the application of non-domestic RHI will be detailed and brought into effect in the coming months, which is expected to increase the number of applicants.
In the meantime the existing RHI provisions will remain in operation, and it is noticeable that the most recent statistics, covering activity up to December 2012, reveal that 90% of accredited non-domestic installations use solid biomass boilers.
That biomass technology will be a significant, continuing presence in the rolling-out of the low-carbon economy is not in doubt, and leading manufacturers are taking the initiative in producing biomass boilers designed to achieve regulatory compliance, both now and in the future. This enables businesses to make informed decisions regarding their response to the increasing impact of existing and proposed system and building energy performance requirements.
Jeff House is marketing and applications manager, Baxi Commercial Division.
Related links:
Related articles: